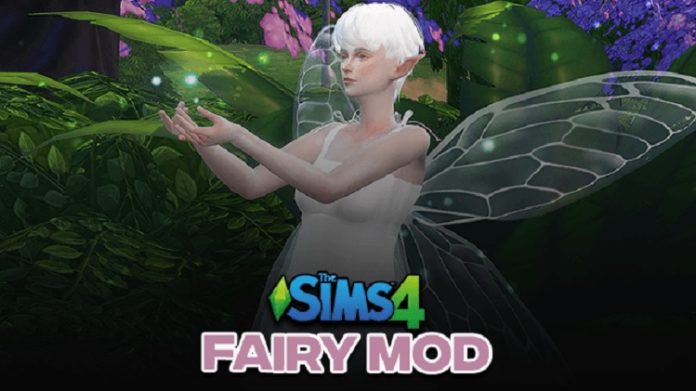 Sims 4 has given the players regular as well as magical sims to have as their character, from mermaids, vampires to ghosts, plant sims, etc. There are a lot of such characters, except fairies. Therefore, Sims 4 fairy cc has come to your rescue because now your sims can look like fairies using the custom content created by excellent creators in the game.
So let's see what all CCs made their way to our list because we'll only feature the ones that are the best for you.
List of Fairy CC
Here is all the custom content that you can download for your sims to become a fairy, including their appearance, home decor, clothes, and so much more. Let's take a look –
1. Fairy Lights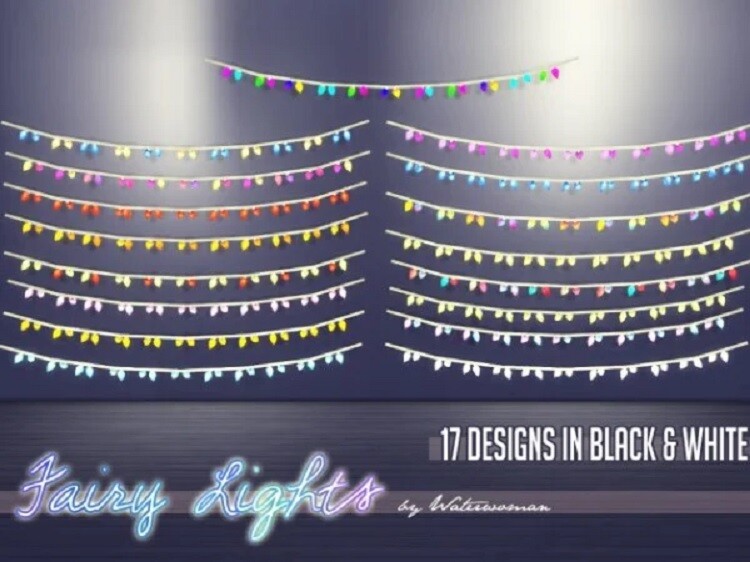 If you're converting your sim into a fairy, then they'd also need to live in a home that matches your character's personality. So here are fairy lights that you can use to decorate their house from the outside and the inside as well. There are 17 designs and 2 variations in which you can decorate these lights and make the house illuminated and visible from afar.
2. Fairy Light Trees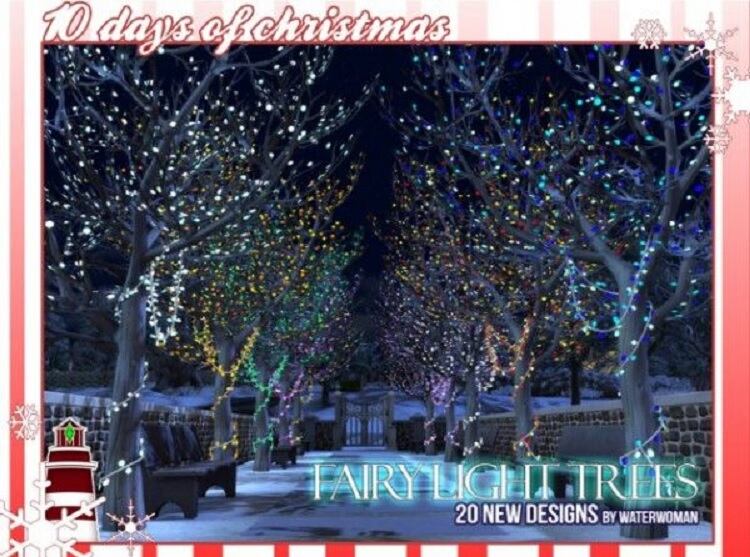 Now with your house all decked in lights, why leave out the surroundings? With this fairy mod, you can have trees all decorated in fairy lights, making you feel like Christmas has come early. There are two types of trees in this cc: choco trees and white trees, and each of them has 10 designs. It'll create the perfect mood for your sim this holiday.
3. Fairies Mod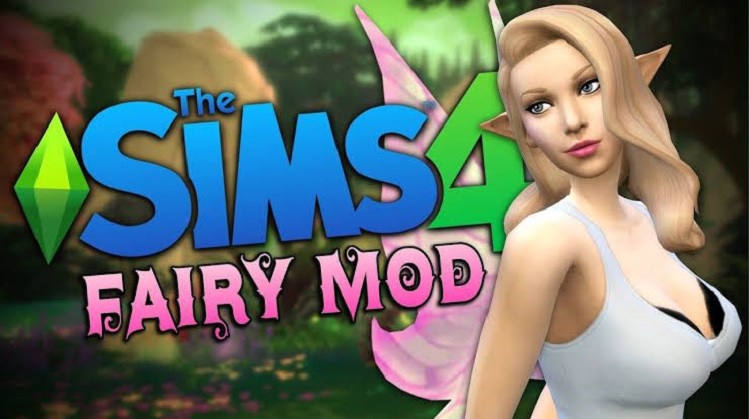 This is the mod all fairy wanting players were waiting for because it would make your sim appear like one with gorgeous and intricate wings, and you can also choose if you want your character to be a good or evil fairy and make them do things accordingly, such as casting good or bad auras, flying, and so on. You no longer have to wait for the EA to release a fairy character.
4. Cute Fairy Tree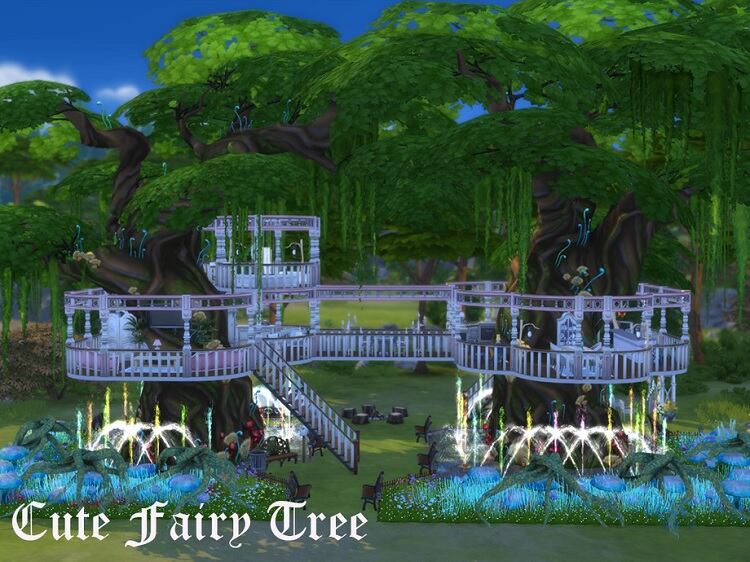 Your fairy sim would have to live somewhere, and even though fairies either live in the wild or build their own home with logs and mushrooms, you don't have to do that. Your character can have its own fairy tree, which features two floors and is surrounded by trees and a magical garden below. However, there won't be any privacy left for them. The first floor is for all the necessities they'd require, while the second floor features a bathroom where they can have their luxury time in the hot tub.
5. Magic Pose Pack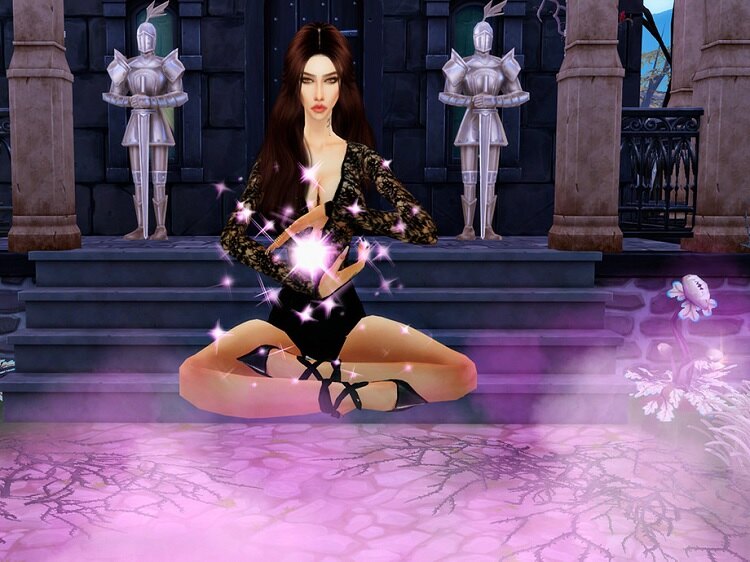 Your fairy will look all mature and beautiful with this pose pack by Beto_ae0. It consists of 4 poses that your sim can try out, and it'd help them in the storytelling feature as well. A pose player is required for this pack to work, but otherwise, this cc is excellent and would make your characters look all sexy and magical.
6. Fairy Clothes Set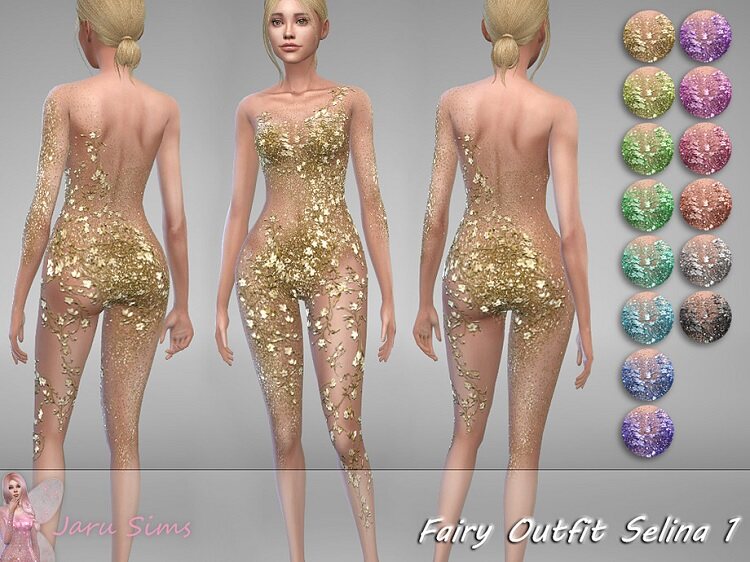 JenniSims' fairy cc is what every simmer would want for their avatars because it features an outfit resembling wings and barely covers your sims but exudes a mysterious and sultry vibe as well. There are 5 such outfits in this custom content that is perfect for your sims to look and feel like a fairy. It's quite a bold look, and we're all for it.
7. Nymphalidae Fairy Accessories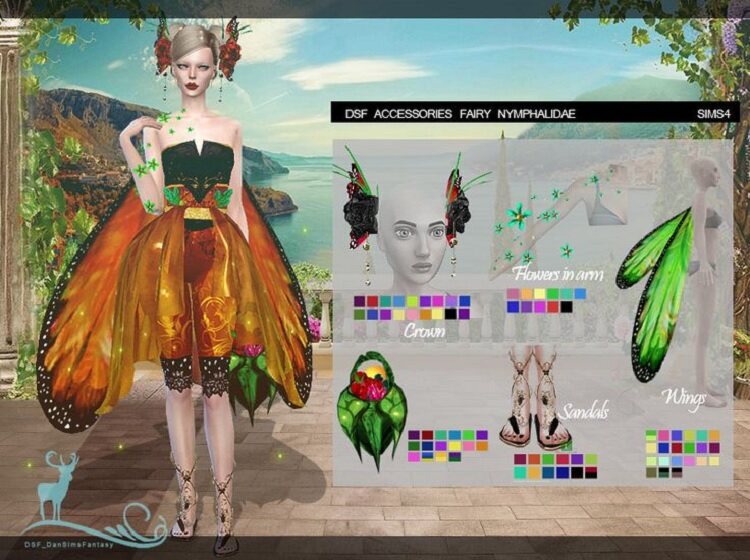 These accessories are one of my favorites when it comes to dressing up your avatars because it consists of everything that you'd need to make your fairy look glamorous. From crowns and wings to flowers on the arm, sandals, etc. The best part is that each accessory comes in different colors for you to choose from.
8. Fairy Sunset Set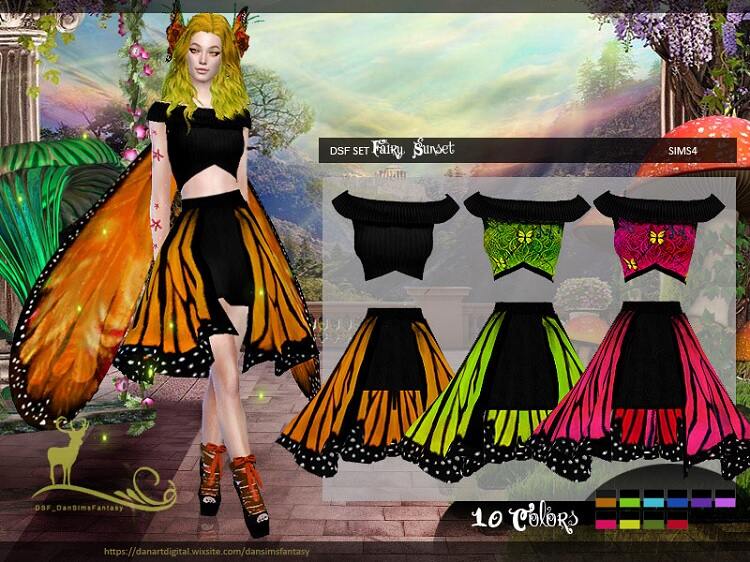 Fairy characters don't need to wear cute and magical clothes to look like one. They can also go for this skirt and crop top set, whose design is inspired by the Monarch butterfly. It's available in 10 different colors, all paired with black. They'll definitely make heads turn with this outfit.
9. Fairy Ciel Set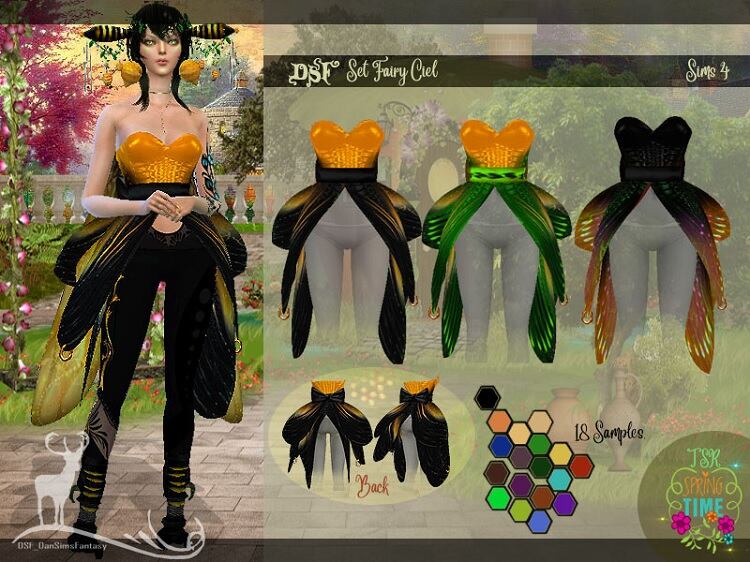 Fairies aren't meant to repeat outfits; therefore, there are so many clothing CCs available to you, including this one which is inspired by a bee. It's pretty edgy, unlike the previous one, and consists of a corset top and trousers with 18 color swatches for the top and 16 for the trousers. Your sims can wear a new outfit every day.
10. Tinker Bell Set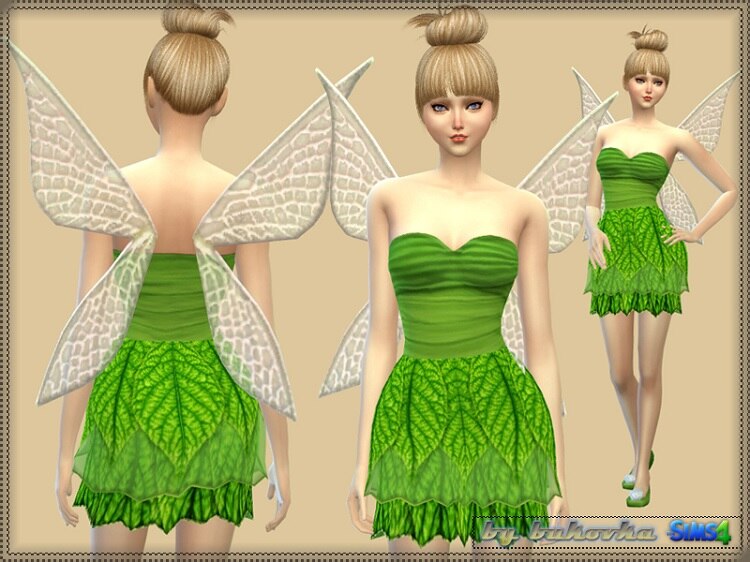 Who doesn't want their characters to resemble tinker bell? Well, now you can. The tube dress in various colors, wings, and shoes all combine to make the perfect outfit for your supernatural character. It'd make your sim look cute and pretty like a doll.
11. Aria Wings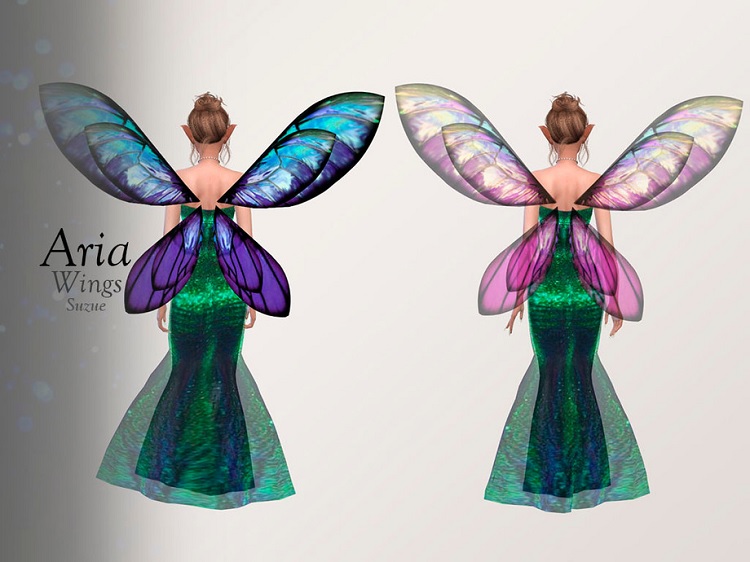 Wings are such an integral part of your character's appearance as a fairy that no matter how many CCs you download, it'd still be less. These wings are magnificent and multicolored and reflect light in a gorgeous way because of the stained glass effect. Choose from the 10 color combinations available.
12. Fairy Eyeshadows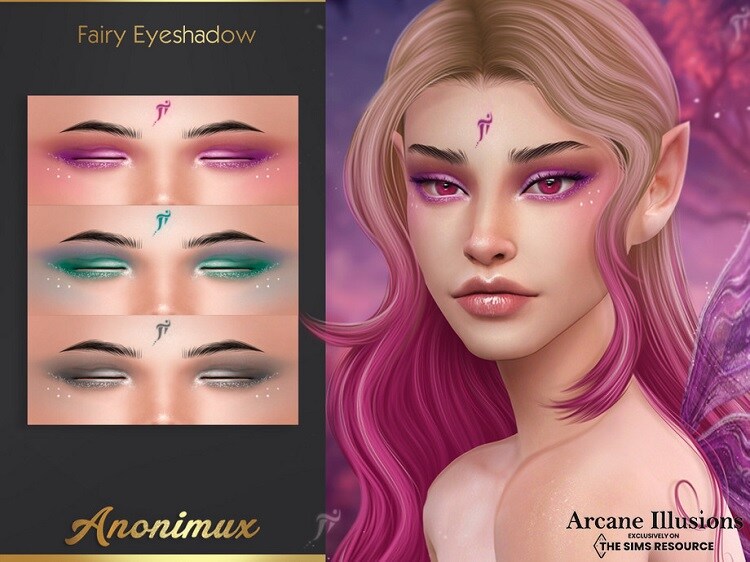 Let's talk about enhancing your fairy's eyes with these glittery eyeshadows. Their 10 eyeshadows would make your sim fashionable and glamorous while they are walking around the wild. You can match the colors of the eyeshadow with the outfits.
13. Fairy Wings Child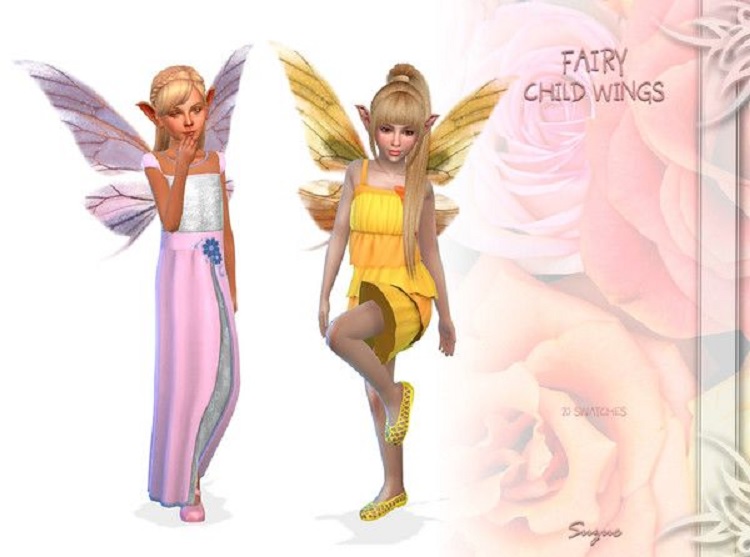 Even your child sims need fairy wings to look the part, and this cc is perfect for that. They are suitable for both male and female characters and are available in 20 colors, such as yellow, green, and so on. If your fairy avatar decides to give birth, you have accessories for them too, which make them look authentic and adorable.
14. Fairy Workshop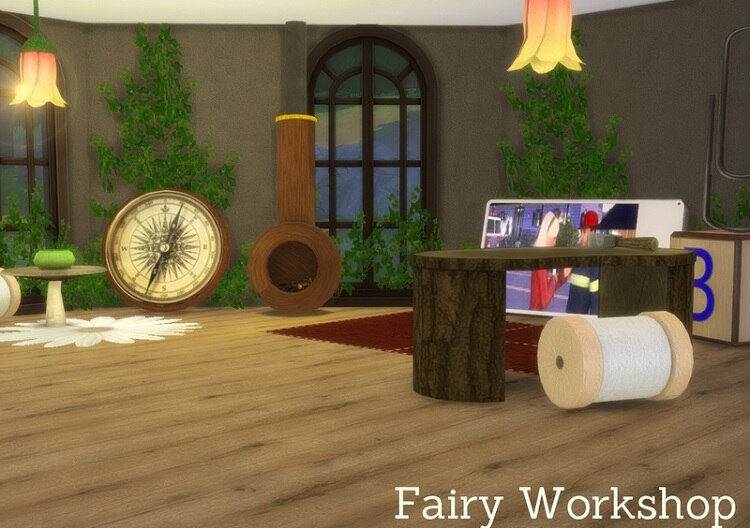 This cc fairy mod isn't created by one by 3 creators together, and you can see the difference in its quality. With this option, you've something new to add to your character's home, which is a workshop consisting of their everyday items. There are 13 such creations for you to choose from, but they should undoubtedly be on your list.
15. Fairy Costume Leona 3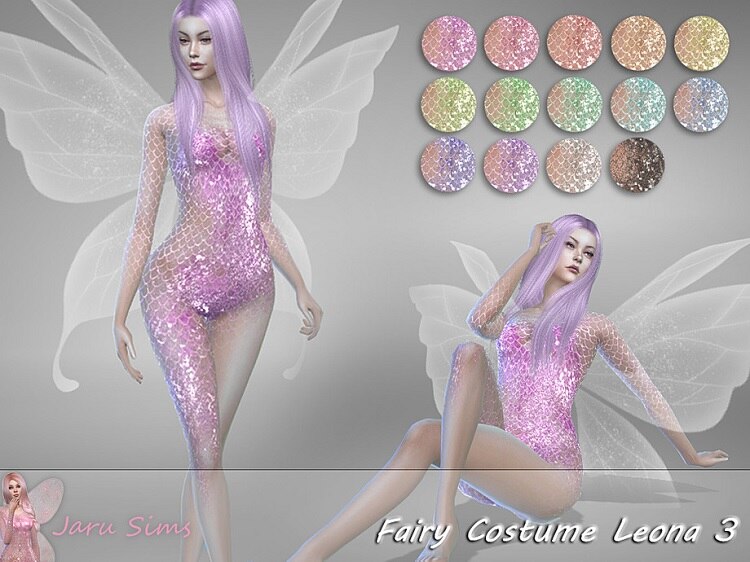 Here's another breathtaking costume that your sim would look gorgeous in because it has all the supernatural elements that one needs for that out of the world look. This bodysuit is available in 13 colors, and all of them would look perfect on your avatars when paired with other custom content, such as accessories, wings, make up, and so on.
16. Fairy Ears Child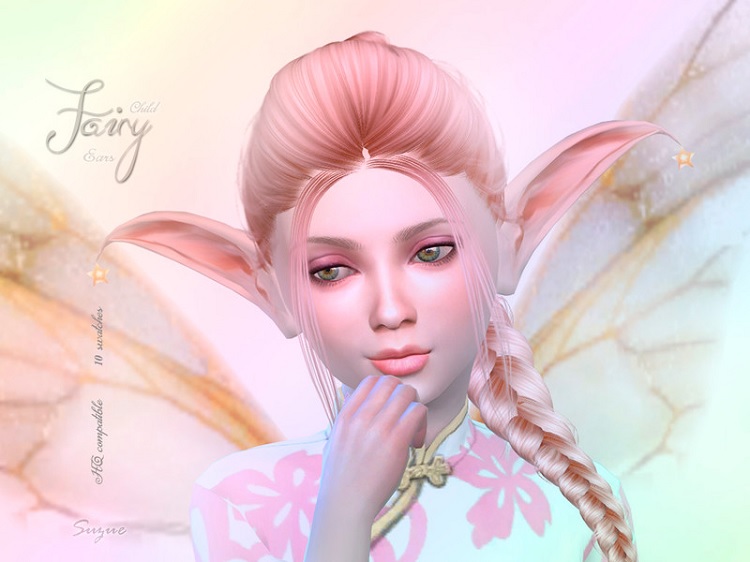 Not everyone would prefer this accessory, but it completes the entire look of your avatar, in my opinion. These ears look a little like an elf's and are long, but they add an adorable feature to your avatar's personality. There are 10 colors to choose from, and you can make your child avatars resemble their parents.
17. Fairy Hair N50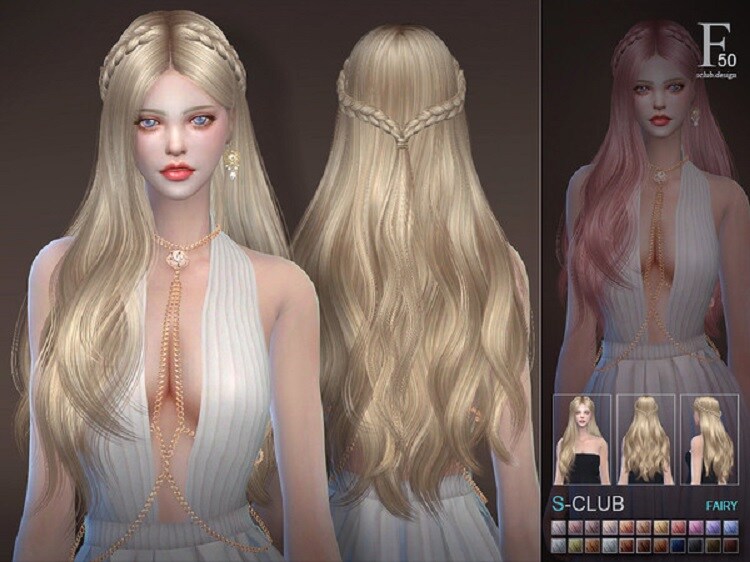 I absolutely love this hair because it enhances your entire appearance in a matter of seconds. These long, gorgeous hair paired with braids compliment the whole look. There are numerous colors, and each one is better than the previous one. So you can switch between them as much as you want and create a new look every day.
18. Fairy Facepaint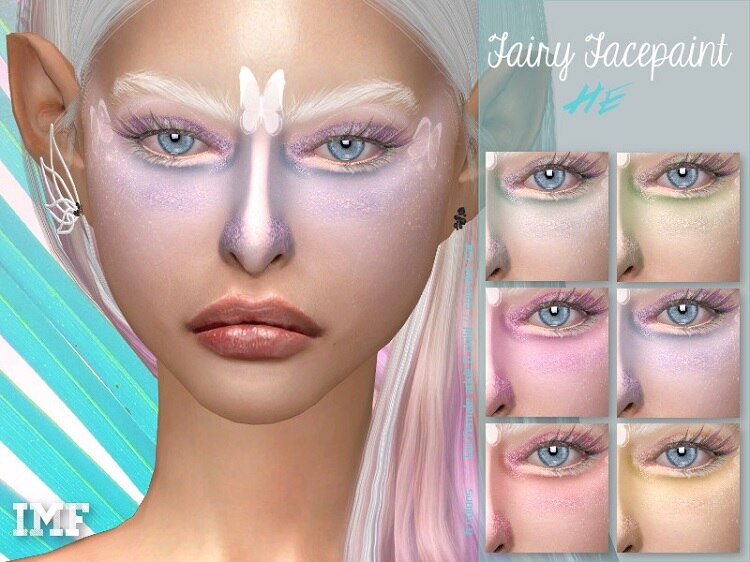 You cannot miss out on this face paint in various soft and shiny colors, and it makes it look airbrushed and exudes an elegant and delicate appearance to them. It'd add that magical element to their appearance while not making them look weird and odd as well. Choose from the variety of colors available.
19. Fairy Dress for Girls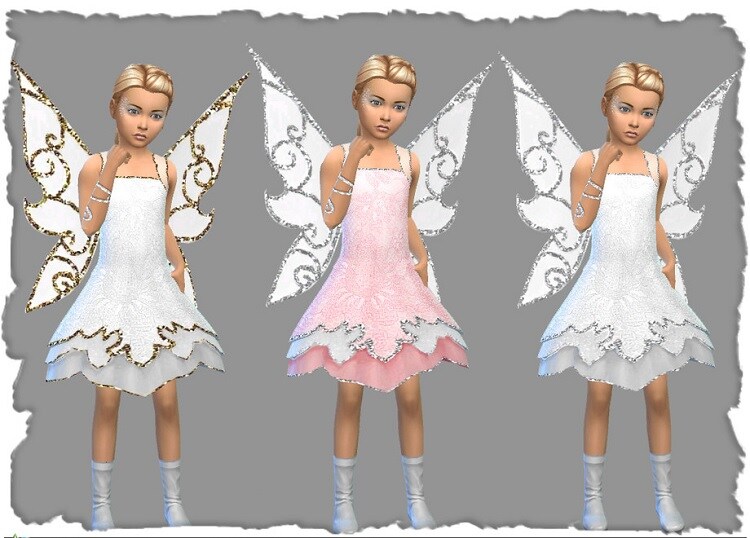 Now, this is a dress for your child characters, which is colorful and adorable with a fitted bodice and flared skirt. The delicate shoulder straps and the neckline all make it a perfect fit for small girls. In addition, the lace, sequins, and fairytale designs all make it the most beautiful dress out there. It's available in different colors as well.
20. Fairy Forest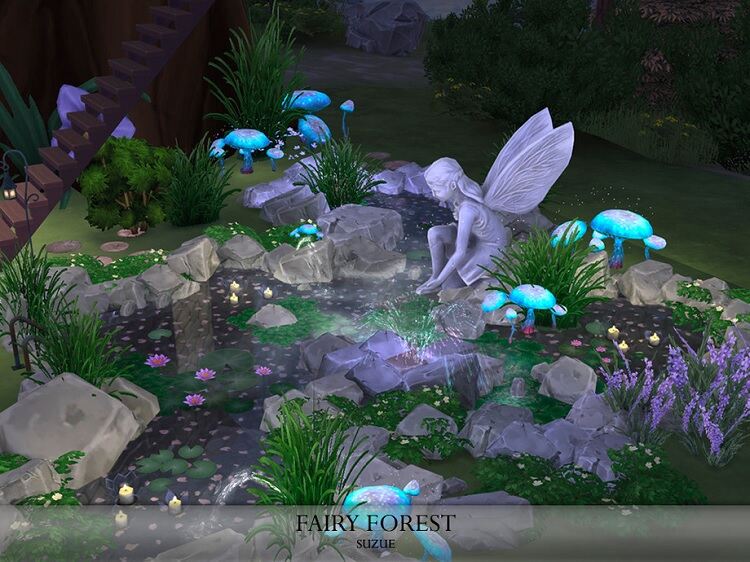 There might be times when your sims need to get away from their routine life or escape for a little while, so this fairy forest would become that place for them. It's surrounded by lush trees, and sunlight and offers a secluded spot. It's a breathtaking place that you'd wish existed in real life as well. But downloading this cc would help you to give this place to your sims, though.
21. Fairy Wedding Dress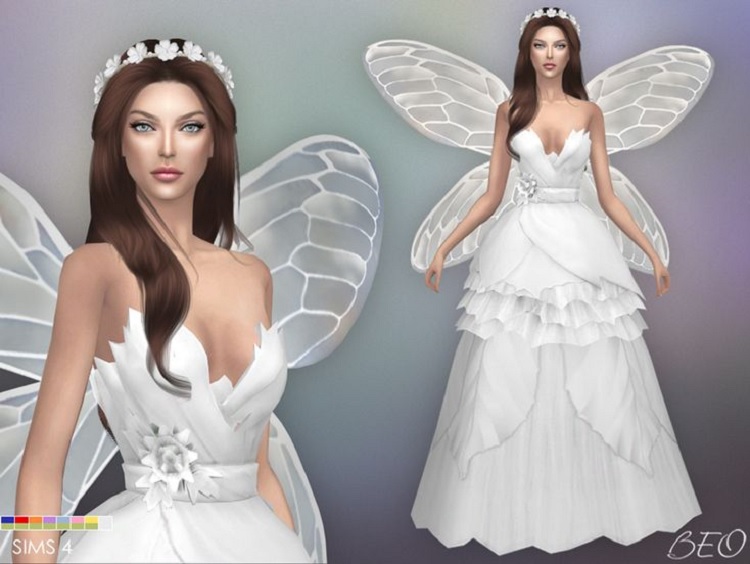 When your avatars get married, they'd need a wedding dress as well, right? This is the most beautiful and elegant dress you'd come across for your Sims 4 fairies. Instead of going for a standard white gown, you could also choose from a myriad of colors, such as pink, blue, lavender, and so on. Except for the white color, all the others are paired with green accents. It's a strapless dress, so you can accessorize them in the best way possible.
How to Install This Fairy Mod?
Here's how you can install the custom content that we mentioned earlier.
Install the mods.
Retrieve the downloaded files to Electronic Arts > The Sims 4 > Mods folder.
Before doing so, enable the mods in the game options.
How to Use These CCs
After you've installed the mod following the steps mentioned above, go to CAS and select the "fairy trait." Another way to transform your avatars into a fairy is to get them blessed by a fairy by requesting the fairy tree to do so. Fairies can learn new skills much faster than natural sims, and they'd have an influence on other characters around them as well.
Faq
Can you be a fairy in Sims 4?
Yes, you can be a fairy in the game by getting a blessing from a fairy or by going to the CAS and choosing "fairy traits."
Conclusion
These were all the Sims 4 fairy cc that you should know about because you'd be missing out on something incredibly unique if you didn't download these mods. Playing with a regular sim is fun, so imagine how much more fun you can have with a supernatural character. These additions in the game are for the benefit of the Sims community because they work toward making the gameplay much more enjoyable.