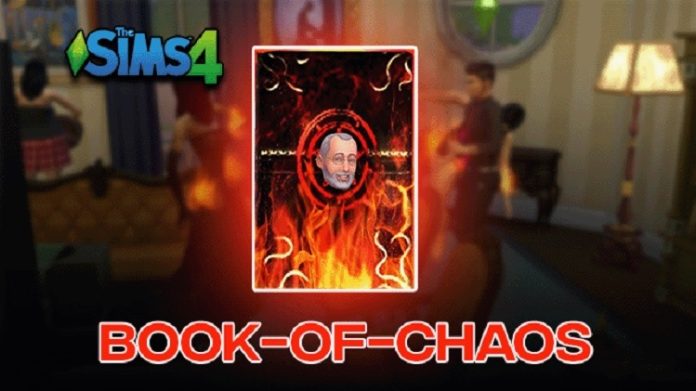 Sims 4 has introduced a lot of excellent mods over the years that make the game more fun, intriguing and engaging for the players. Similarly, the game has come up with a mod, Sims 4 book of chaos, which is the ultimate mod because it gives you complete freedom to kill another sim, and you can be as creative in doing so as you want. It's literally a book of chaos because your virtual world would be in a frenzy because of this mod.
This article will focus on its features, rules, and much more so that you can enjoy it to your heart's content.
About the Book of Chaos
Here's everything you need to know about this modification.
This mod wouldn't clash with other modifications or override your game data, except death hunger, because of its custom tuning feature.
There are 17 ways to kill a sim in the game.
It involves some new interactions as well, such as drowning a sim in pee, abducting them, and so on.
You'd also receive new buffs.
Your character can choose to kill anyone, anywhere.
Killing another sim would be fun for your character, and they'd enjoy it whenever a sim's on fire and laugh maniacally.
This mod's available in 4 versions and would work according to the packs you've downloaded.
Your character's reaction would depend on the situation.
How to Use This Mod?
The first step is to place a bookcase in your character's home, then purchase the book of chaos by navigating to the shelf. After buying it, you can keep it in the inventory or any place in the house. Whenever you wish for your avatar to perform an interaction, just click on this book and choose one of the options.
There might be times when the book faces a glitch or doesn't work, then purchase a new one. Only PC users can enjoy this modification, as it's not available for download on Xbox One or PS4. Also, it only works on the stream version.
Available Interactions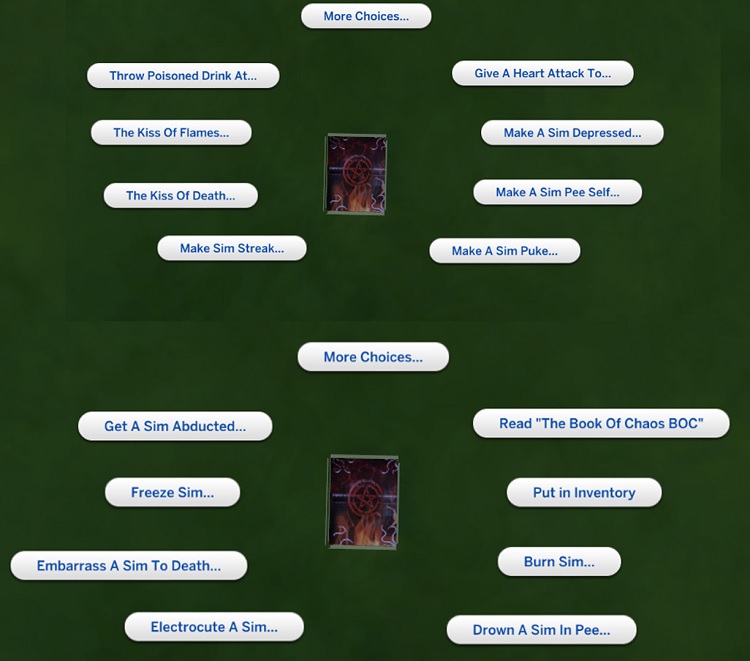 Here's a list of interactions that you can make your avatar perform on others to kill them. These are quite unique and fun, adding an exciting element to the game. You can use these options on a playable and an NPC as well.
1. Throw Poisoned Drink At
Using this method would lead your avatar to throw a poisoned drink at the sim you selected, and they'll die of overheating.
2. The Kiss of Flames
Once your sim kisses a sim chosen by you, they'll catch fire.
3. The Kiss of Death
When your character kisses another sim, they'll die due to overheating.
4. Drown a Sim in Pee
You can select a character who'll pee and then die from drowning in it.
5. Electrocute a Sim
The sim you choose would be electrocuted and die due to that.
6. Embarrass a Sim to Death
The chosen character would first puke, then streak, and then pee themselves, which would lead to their death due to embarrassment.
7. Make a Sim Depressed
Whichever avatar you choose would become sad and cry frequently, and others would feel bad for them. The sim who'd die would receive a sad buff and +8 sad moodlet.
8. Give a Heart Attack to
For this, your character would perform a magic trick, which would scare the other selected sim and cause a heart attack.
9. Freeze Sim
Your avatar can freeze another sim you choose using the freeze ray, even if they don't own it. However, you'd need the GTW pack for it.
10. Get a Sim Abducted
Whichever avatar you choose will be abducted by aliens. For this interaction to work, you'd require a GTW expansion pack.
11. Burn a Sim
The sim you select would catch on fire and would receive a "what just happened" buff along with a +3 dazed mood.
12. Make a Sim Pee Self
The sim you choose would pee on themself.
13. Make a Sim Puke
Whichever avatar you select would puke.
14. Make a Sim Streak
You can choose a sim who'd run around naked.
15. Torture a Sim
The avatar you select would be electrocuted and puke on themself, and then eventually fall unconscious. If this torture is repeated, they might die of starvation; otherwise, this is a non-deadly interaction.
16. Spread Hatred
Your character would blow an air horn, which would make everyone in the game hate each other for some time. They'll be violent with each other, slap, throw drinks, yell, and whatnot! They'd receive a "fight everyone" buff and a +5 angry moodlet.
17. Ask to be Partners in Crime
The chosen sim would join your sim in mischief and cheer them instead of panicking. The partner in crime buff would be generated with a +1 happy emotion.
18. End Criminal Partnership
Whichever sim you choose won't be your avatar's partner anymore, and feel panicked at their actions.
Types of Torture Mod
There are four types of modifications based on the packs you've installed. Let's take a look.
1. Base Game Only
It includes 15 interactions, except the steamy death, Alien Abduction & Freeze Sim options.
2. GTW Only
It consists of 17 actions, except steamy death.
3. Spa Day Only
It features 15 interactions without Alien Abduction & Freeze Sim options, though.
4. Spa Day + GTW
All 17 interactions are included, along with steamy death, alien abduction & freeze sim methods.
Updates in the Modification
Since this Sims 4 book mod was released, there have been a few latest updates in its features, and they are –
You can reread the book.
Your sim would no longer get stuck after performing an interaction.
When the sim's dead or someone extinguishes them, the 'Sim on Fire" interaction will stop automatically.
When your character performs mischief, the other character's response to it has been improved.
Toddlers can also go for the non-touching actions from the book.
The "Embarrass a Sim" and "Make a Sim Streak" actions have been updated and work effectively now.
The book of chaos costs 666 simoleans.
It's available in Russian and Spanish translations.
Conclusion
As I said earlier, Sims 4 book of chaos is one of the most notorious and intriguing mods introduced in the game because there are no rules or restrictions in the virtual world, and you can bring out your character's evil side. It's a fun twist from the usual gameplay, and therefore, a lot of simmers prefer using it. You should try it out too, and maybe you'd find it interesting enough.