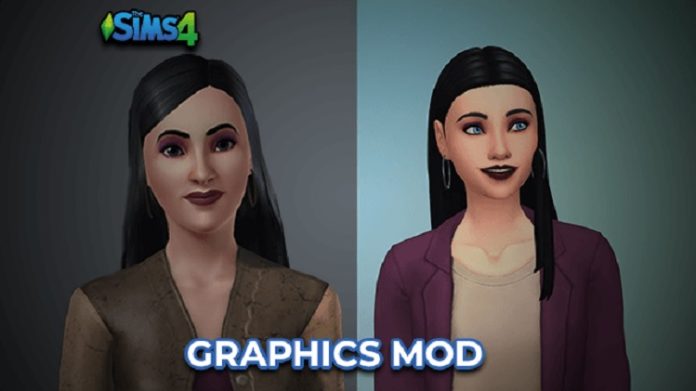 Even though the Sims franchise has been successful in maintaining its relevance even after so many years, there are still some areas where it can do better, and one of them is graphics. The cartoonish graphics steal away the fun of the game, and your gaming experience gets hampered as well due to it.
Therefore, this article will talk about some of the best Sims 4 graphics mod that you can download to enhance your game's graphics and see the difference for yourself.
List of Best Graphics Mod Sims 4
Here's a list of the mods that you must try if you're also as annoyed by the poor graphics as we are.
1. HQ Mod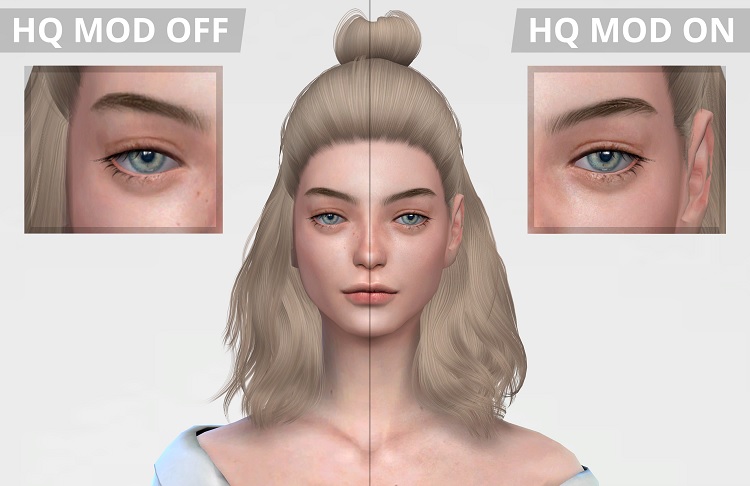 Here's the graphic mod that has made its place on the first number because of its importance. You can now view everything, including your sims, in a 4k texture. You'd be able see the difference as clearly as the day when you use this option; however, you'd need a solid system to download because enhancing everything to 4k would require advanced technology, such as the Nvidia GeForce RTX 2080 Ti. View the game in HD with this mod.
2. Luumia's Vanilla Skin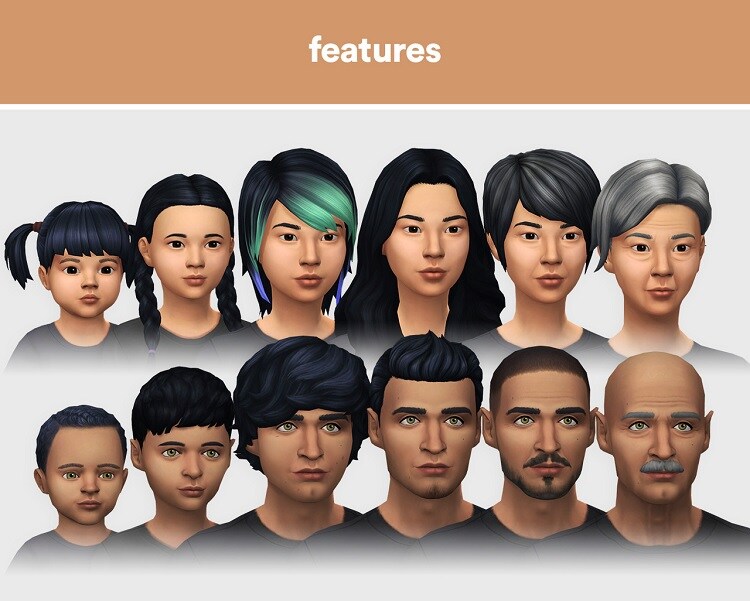 This mod is the perfect blend of skin replacement and hyper detailed alpha cc mods because it offers your sims clear and smooth skin with no texture while also maintaining the clay-like appearance to not make them seem out of place. You can pair this skin with alpha or other CCs as well.
3. PralineSims' Eyebrows and Make Up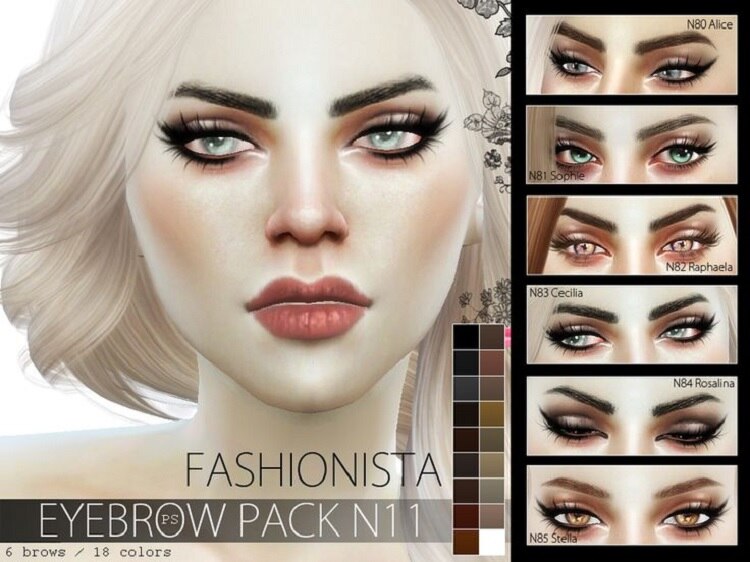 Your sim's appearance is an essential part of the game because they are virtual you, in a way. So this eyebrow and make up cc is what you need to glam up your character, including eyeliner shades, glitter lip glosses, eyeshadows, and so on. This make up is quite realistic and wouldn't make your sim look weird.
4. Encore Eyes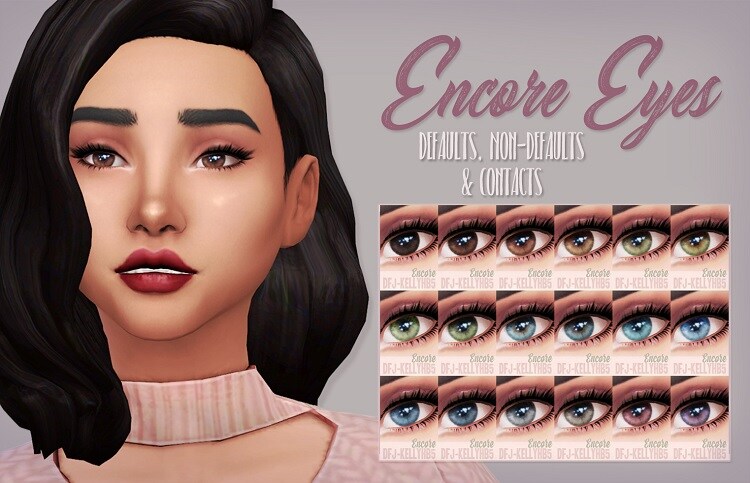 This creation by Kelly Hannah is a must have because it can change your character's appearance to a whole new level. This bright version with several color options and detailing would fail the vanilla eyes that you were using before.
5. Hair Physics Simulation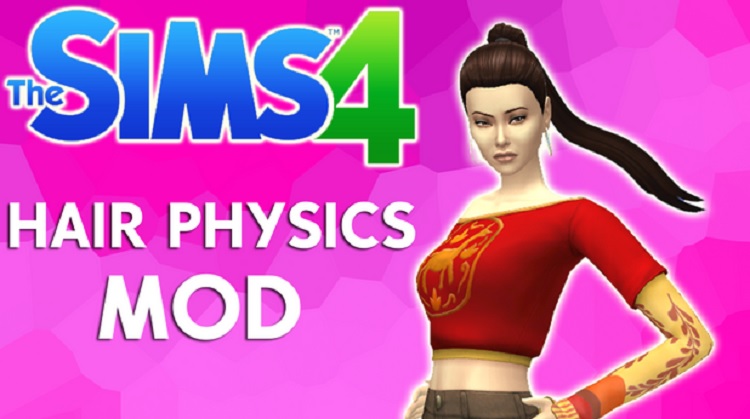 There are a lot of options when it comes to hair mods, and when you do offer your sim brand new hairstyle, it will look even better with some movement. So when your sim walks, runs, or dances, their hair would also sway. You cannot miss out on this excellent option to improve your gaming experience.
6. Clear Boom Reshade

When it comes to the graphics of the worlds and the view they offer, this is one of the better graphics mod because they make everything bright and colorful. Also, you have the option edit this preset as many times as you want if you don't have an issue with opening Reshade repeatedly and tweak it as per your own preferences.
7. Reshaded Milk and Honey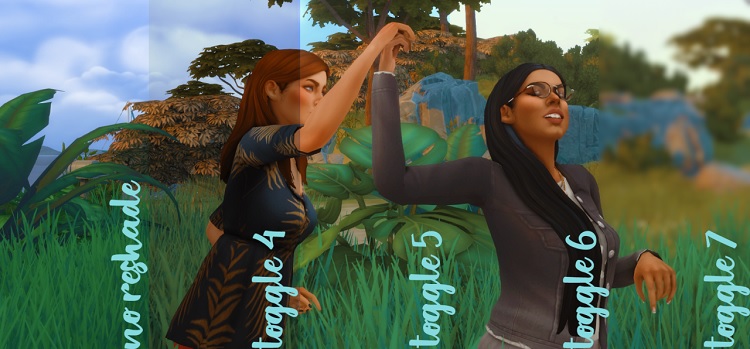 Do you love that filter where everything reminds you of a cozy and warm atmosphere? Well, this Sims 4 shader mod would offer you exactly that. You can zoom in on your sims more while blurring out other things in the background and making everything look like a picture. Photos clicked in this feature would create a nostalgic effect when you look back on it.
8. Honeybodies Nostalgia ReShade Honeybodies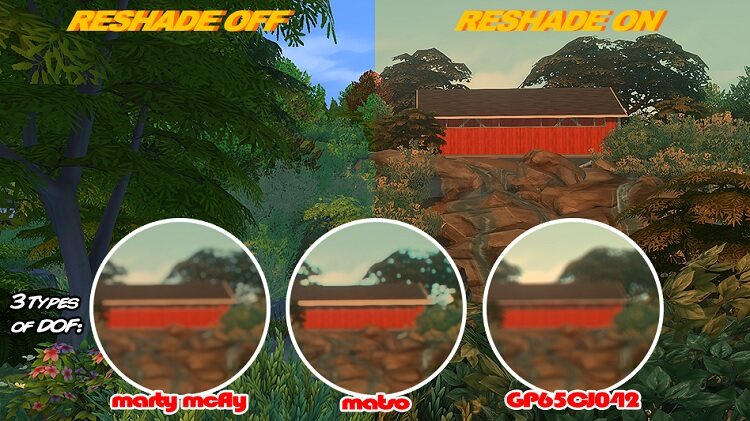 Similar to the option mentioned above, this modification would add a melancholic look, and it'd appear that everything's lost its color with time. You could go ahead with an excellent storyline with such a background and make it dramatic. It'd remind you of times when you come across a really old photograph of a place that was clicked using the Kodak camera.
9. Pixelore's Drama ReShade

The drama reshade is one of my favorites when it comes to texture mods because of the bright light that makes your sim's features even more prominent and is available in day and night versions as well. It's a fantastic option when you want to click a screenshot of your avatar.
10. Reshade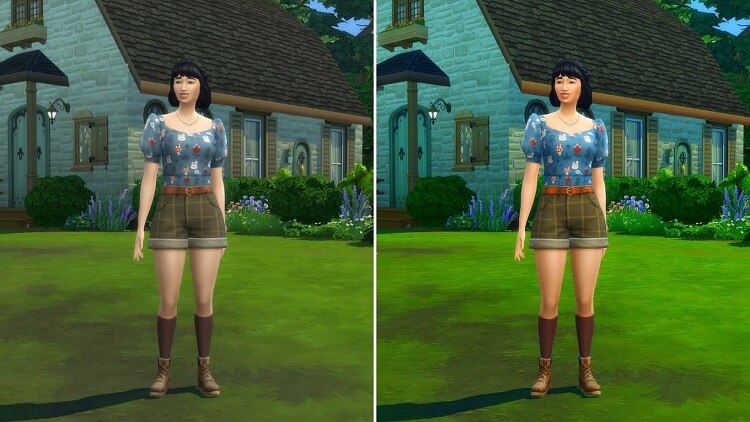 The option isn't a mod but more of a graphics injector, which means that it only improves some aspects of the game, such as lighting, chromatic aberration, and the visuals in general. The trial and error method works best in this case because you'd have to figure out what looks best. It adds a level of depth to the game and offers you various options to control, such as contrast, vibrancy, color, and so on. You can make it look like winter or summer by adjusting the settings.
11. About Face by Pyxis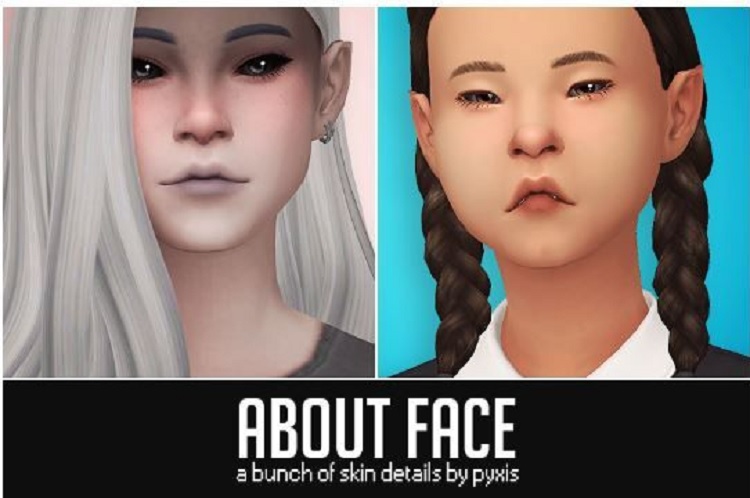 Now, this is some next level creativity because this texture mod allows you to add shadows and highlights to your sim's face to make them more realistic, bright, and vibrant than before. You'd be able to notice even the most minor details and features of your character and even highlight certain parts of their face. For instance, you can highlight their cheekbones to make them defined, and so much more.
12. K707 MOD by K-Hippie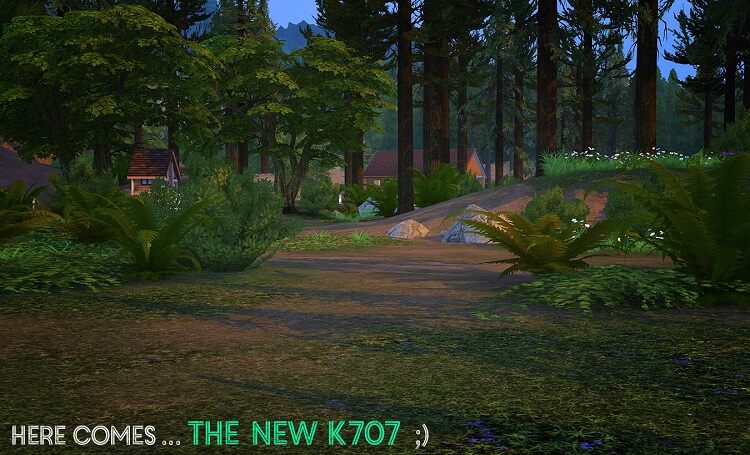 To make the surroundings your avatar lives in more lively and beautiful, you must download this modification because it adds numerous plants and trees in the area and makes nature appear more natural and life-like. The trees and plants that are added are big in size so that they don't look fake or cartoonish. It'd help you see the outdoors in a new light.
13. Vibrance Reshade by MissLollypopSims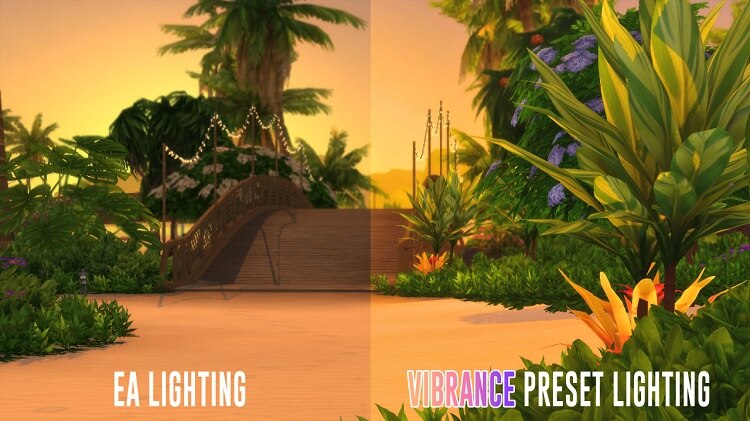 As the name suggests, you can expect a bright and sunny afternoon vibe from this preset. It's an excellent option when you're planning a trip to Sulani to bask in the sunset, and the summer feels. The glow on your sim's face would make downloading this mod worth it.
14. Love Shade Vogue by HazelMine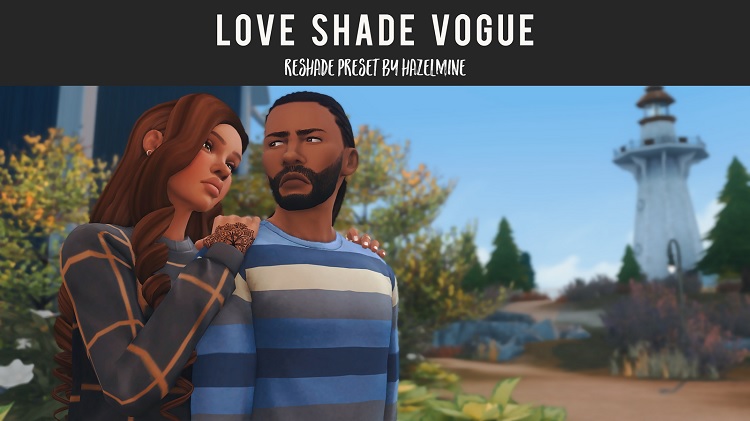 The overall graphics in the game would make everything illuminated and bright, and you can notice the difference clearly in the before and after. This preset adds a cinematic look to your game, and you can fix the brightness and contrast as per your needs. You no longer have to look at a colorless screen and dim looking graphics.
15. No EA Eyelashes~ by Cień Z Różą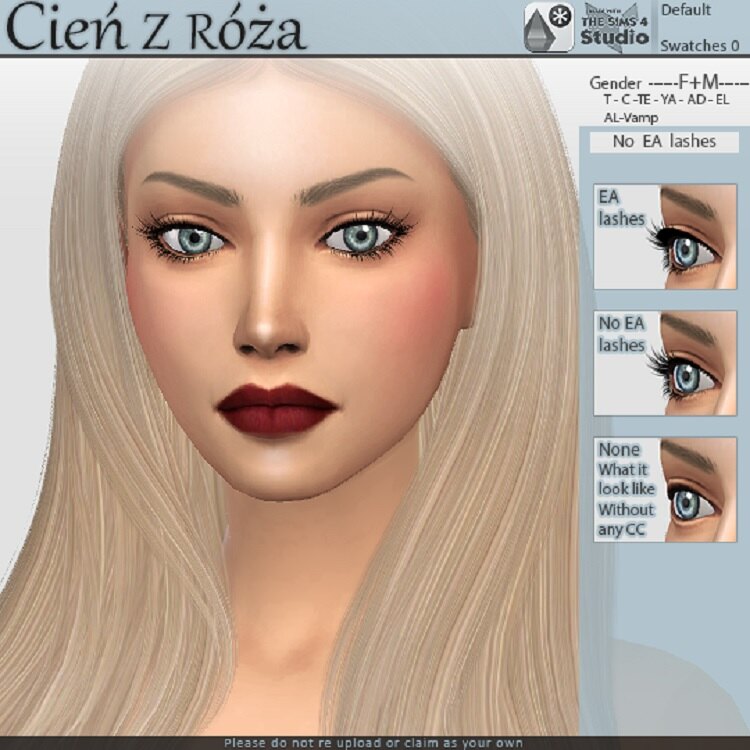 To make your character beautiful or handsome, you'd need to put in the effort, and these eyelashes are perfect for that because these are more defined and much better than the EA lashes, trust me. Your avatar's eyes would get a much needed enhancement that even you didn't know they needed until you used these no EA eyelashes. You also have the option to not make them wear any lashes if that's how you'd like them to look.
16. Cube Map Replacement for CAS by Alf-Si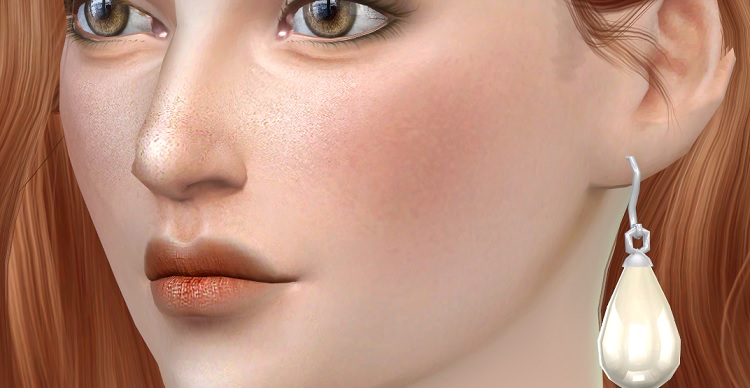 EA does offer shine to your sim's eyes, but it still makes them look somewhat dull and without life. So that's where this mod comes into play as it gives your sim more shine and depth in their eyes, which works flawlessly in times when they are surprised, hopeful, or teary-eyed. It'd make your sims much more lively and realistic.
17. K101 Mod by K-Hippie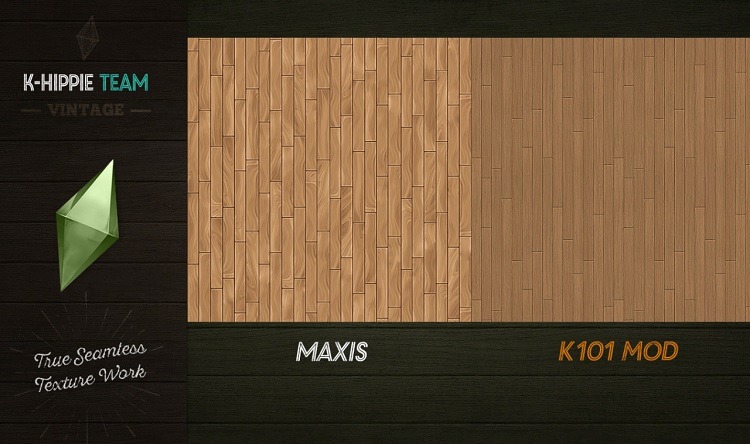 When everything's going to become enhanced and precise, why not make even the flooring of your house high definition with this modification as well? This option features hardwood floors and masonry, which is quite detailed and gorgeous. Your character's home would look as good as new with the addition of these floor designs.
18. Stealthic's Hair Mods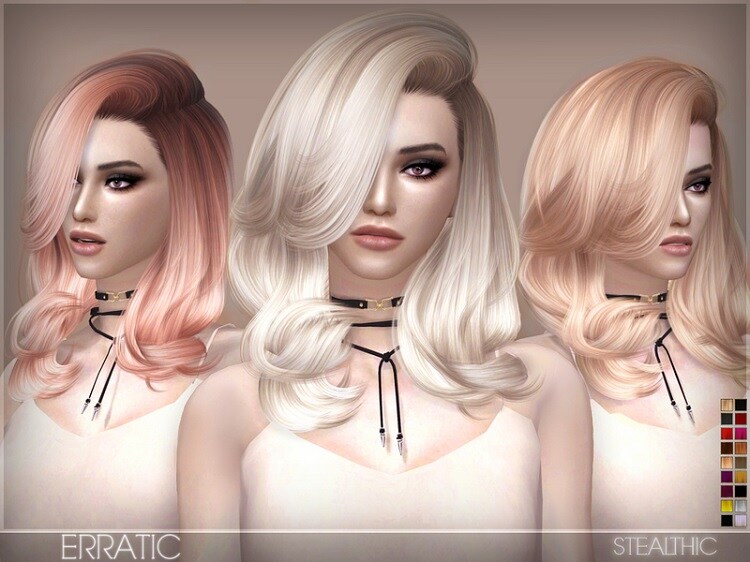 Don't think of this mod as just a hair mod that you can add to your list of customizations. This modification is more than that; it's excellent in terms of graphics too. The hyper detailing in the hair is what makes it stand apart from other similar options and makes your sim appear bold and confident. They are available in several shades, so you can switch between them if you want or stick with one color; nevertheless, they'd all look breathtaking.
19. Kijiko's 3D Lashes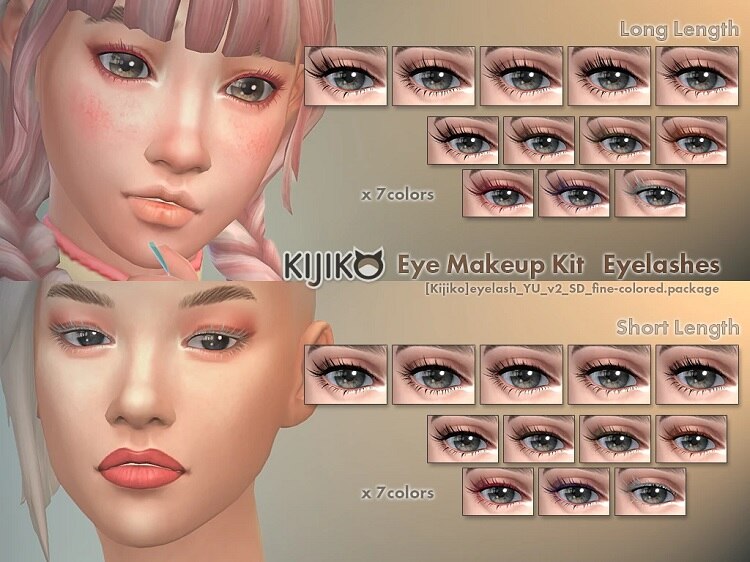 The last on our list is this realistic graphics mod. This option features a sophisticated range of eyelashes that makes your sim appear less cartoony, and it's ideal for both alpha cc characters and vanilla ones. It's available in natural colors, such as soft brown and white colors, and they have unique options for child sims as well.
Faqs
Why are my Sims 4 graphics so fuzzy?
If your game's graphics are looking fuzzy or grainy, then go to the game options and select "uncompressed sim textures" to solve the issue. You could download one of the graphics mods to enhance your game's graphics and experience as well.
Conclusion
These were the most excellent Sims 4 graphics mod that we selected out of hundreds of options for you to check out and maybe download some of them because who can resist making their simming experience worthwhile? We recommend you take a look at all the options mentioned above and then take your pick.