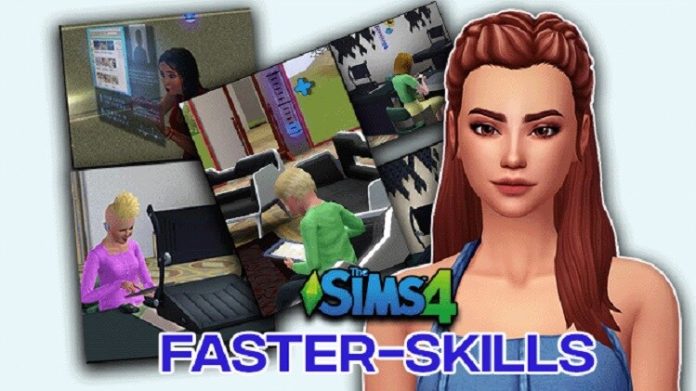 We've all been through this phase where we wanted to quicken up the pace at which our sims learn skills because there are certain features that can be unlocked only at specific levels of that skill. So here's some good news for all the simmers, you can now increase the pace of your sim's gaining expertise in new things using the Sims 4 faster skills mod.
Don't worry; we'll cover everything in this article regarding this mod, and then you can decide on your own whether you wish to download it or not.
How to Install the Faster Skills Mod?
We understand that it can get annoying to do the same tasks over and over after you've played the game for some time, and for such occasions, this mod is at your disposal to help you unlock new traits or features without any effort from your side. Here's how you can install it – 
Extract this file into a new folder.
Navigate to the mods folder.
Paste this downloaded file from the new folder into the mods folder.
Restart the game.
Don't put this file deeper than one folder because it won't work otherwise. You'd require both the .package and .ts4script files. As soon as you download this excellent modification in your game, you'd notice the difference instantly. Your sims would get done with mastery of traits quickly. There are six speed levels at which your avatar can grasp new skills, and they are –
2 times
4x
8 times
16x
32 times
64x
It's up to you as to how much you wish to increase the speed; however, this mod only works in terms of your sim's ability to learn and doesn't affect the overall game's pace. After this modification is downloaded, you'll start at the same level that you left and then let the magic happen.
This mod is quite helpful for sims who don't have MC Command Centre downloaded; otherwise, they can go for the "Adjust Skill Difficulty" option under "Gameplay Settings." You can use numbers to set the speed to slow or fast. Negative numbers denote a slow pace, whereas positive ones increase speed. The rate can be increased up to 10x, whereas it can be slowed down to up to 50x. So those with MCCC should opt for this mod as it's a better option.
Faqs
How do you make skills go up faster on Sims 4?
To make your characters learn skills faster, you can opt for the standard way, which is to include lot traits that would help your sim in gaining capabilities easily, or you could go for this faster all skills mod, which is an easier way to level up faster.
Conclusion
You no longer have to wait for your sim to complete a task or whatever the requirements of that particular skill level are to gain rewards. Sims 4 faster skills is a boon in disguise because it lets you skip the boring and monotonous part and reach the stage where you enjoy the benefits that come along with reaching certain levels in the skills.