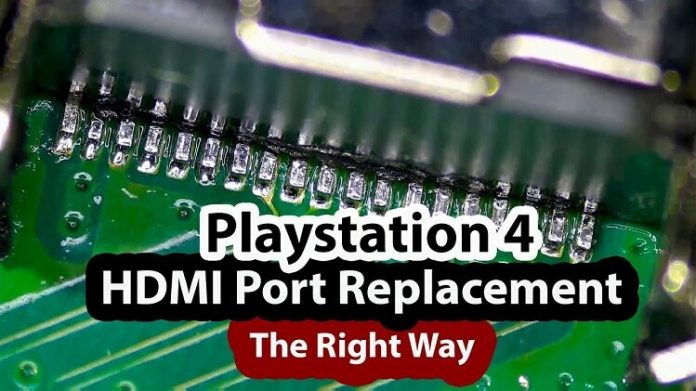 Over the previous eight years, the PS4 has been a loyal companion to millions of gamers. However, the HDMI ports on some units may need to be replaced. You may need to repair the PS4 HDMI port as they begin to show their age. The subject we'll be looking at today is whether an HDMI port on the PlayStation 4 can be repaired or needs to be replaced. This article will explain to you about PS4 HDMIi port repair.
Signs that your PS4 HDMI port may have an issue
You can connect the PS4 to your television using the HDMI port. This port also allows sound and video to be transferred. This cable is already present in the majority of recent gaming consoles, as it is capable of delivering high-definition video and surround sound.
The following are symptoms of a problem with the PS4 HDMI Port:
There is no video signal
There was no problem with the input.
The screen is black
Pixelated image
Graphics that are warped
On the console, there is a defective light indicator.
The following are specific symptoms of hardware degradation on the PS4 HDMI port:
1. Bent Pins
This is a widespread issue among PlayStation 4 owners. It's usually caused by a lot of vigorous plugging and unplugging of the HDMI cable.
2. HDMI pins pushed in on the console
This happens when the HDMI cable is yanked into the port.
3. Loose HDMI port
This commonly occurs when the cable is yanked into the HDMI port.
If any of the following symptoms occur, you can perform some basic troubleshooting on your own by looking for evidence of physical or liquid damage in the HDMI port.
The HDMI port on your PS4 may be found in the upper center of the back panel. It usually has the shape of a half-octagon. If you see any signs of cut or slash, then that could be the underlying cause.
Remember that not all of the symptoms listed above are caused by a damaged PS4 HDMI port; they might also be caused by a malfunctioning television. However, don't forget to look at your television.
A faulty or mismatched cable could possibly be the source of the problem. To rule out these possibilities, try a new cable and (if accessible) a different TV to see if the problem goes away. If the problem persists, it's likely that a component of the PS4 has been damaged.
When your PS4 is unable to connect to or produce the correct display, this is a common sign that it has an HDMI issue.
Another aspect to consider is wearing and tear. If you're continuously yanking the chord out of it, this is typically the case. If you're too rough when inserting the cord, the same thing can happen.
Environmental variables such as dust and dirt that collect inside the port and become trapped are other possible culprits.
What should you do if your PS4's HDMI port fails?
Unfortunately, unless the issue is software-related, there isn't much you can do on your end to repair it. However, if you know your way around micro-soldering and electronics and are certain that you can fix it yourself, you can always try repairing it at home. Removal, cleaning, and installation are usually all part of the process. To do so, you'll need the appropriate tools, such as a soldering iron and a new HDMI port that works with your console.
You can start desoldering the old, damaged PS4 HDMI port at the pins and anchor holes, cleaning the old solder from the pins, and installing the new working HDMI port in its right spot once you have all of the necessary parts and tools.
Prior familiarity in electronics repair is beneficial in achieving great results in this repair project. If you're not sure, you may always hire an expert to do it for you. Simply look for a nearby repair shop or go to Sony's official website to find authorized service shops in your area.
PS4 HDMI Port Repair Cost
The price of a PS4 HDMI connector varies based on the extent of the damage. The average cost of minor damage repair is roughly $100 or less. This estimate is only valid if you choose to go to a non-Sony repair shop, as third-party shops often charge significantly less than OEM shops. If you take your broken PS4 to a Sony-authorized repair facility, you may expect to pay roughly $150 or more for your PS4 HDMI port repair.
The repair cost appears to be significantly greater than that of other establishments, yet it does not affect your warranty. If your PS4 is still under warranty, this is a viable alternative. Alternatively, you can save money by seeking the same repair service elsewhere.
Remember that taking your vehicle to a repair shop will terminate your warranty. It's usually better to take your PS4 to Sony for repairs, especially if it's still under warranty.
Another factor to consider is the experience of the specialist who will be executing the repair. Replacing a damaged PS4 HDMI port is a difficult operation. As a result, make sure the individual you hire has a lot of expertise in repairing PS4 systems and, in particular, replacing HDMI ports. To successfully repair or replace a PS4 HDMI port that isn't working, you'll need a lot of repair skills.
How to use PS4 with a broken HDMI port
If you don't have time to visit one of Sony's repair shops to have bent HDMI pins on your PS4 fixed, you're probably wondering how you'll be able to play games on the console with a broken HDMI port.
One option is to play from a distance. You don't have to have the 8-digit code to register for PS4 Remote Play. Gamers stated that they simply signed in with their account information, and Remote Play automatically registered, allowing them to connect.
It appears that playing with a PS4 with a broken HDMI port is still possible, according to a few savvy users. They allegedly enabled Remote Play on the PS4 and began playing the console without a larger television screen. If you want to do it yourself, here's what they did:
Switch on your PS4.
Press X if auto-sign is not enabled. If not, move on to the next step.
Press UP once, then RIGHT seven times.
Now press the X key.
Finally, hold down the DOWN key for 12 seconds before pressing X twice.
How to enable Remote Play on PS4 without TV
Turn on your console.
If you don't have the auto-sign turned on, press X once. If you've enabled auto-sign, you can go to the next step.
Press up once, then right seven times.
Press the X key.
Press and hold for 12 seconds, then press X twice.
Playstation HDMI Port Repair
It's time to find someone to fix your PS4 HDMI port now that you have an approximate estimate of how much it will cost.
The quickest method is to visit Sony's website and navigate to the PlayStation Service Page. Select the device for which you require assistance and follow the on-screen troubleshooting guide to see if you can resolve the issue on your own. Many of the gadgets that come into Sony's repair centers don't need to be repaired, which is why they've introduced this fast troubleshooting session to their Service Page.
You can follow this approach to solve your HDMI port problem:
Step 1: Select "Picture and Sound" as the topic.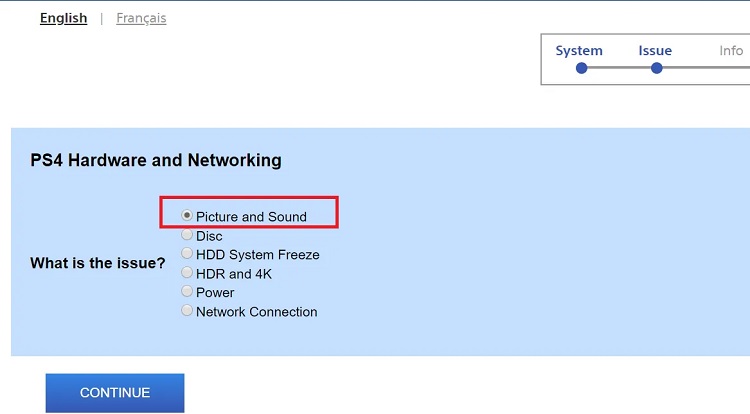 Step 2: Continue following the directions on the screen until you get at this page.

Step 3: Simply choose the appropriate link to send your console to the repair shop.
To contact a localised support service centre, go to Sony's Authorised Service Centers page. If your nation does not have an Authorize Service Center, you can choose one from a neighbouring country or contact Sony Helpdesk.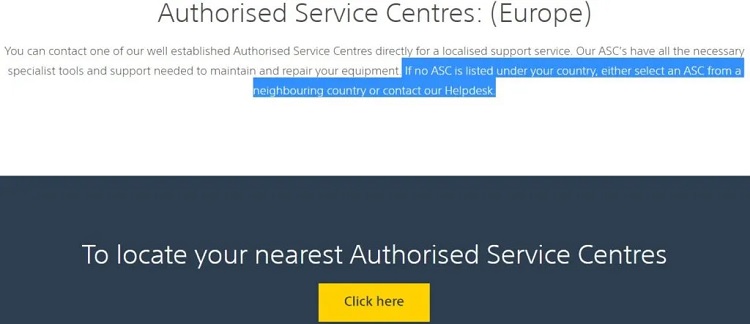 A third option is to open a new browser tab and type "PS4 repair service near me" into the search bar to find the nearest repair shop that can also help you with your PS4. Google will then provide you with a list of nearby repair shops where you can drop off your console for a speedy fix.
Again, while these repair services are normally less expensive than Sony's, I recommend that you go with Sony's repair centers for peace of mind. Also, before sending your console to Sony, make a backup of your data on an external device.
HDMI Port Replacement
Opening PS4
To begin, we must remove the stickers from the console's back. The screws that hold the plastic outer panels in place are hidden behind these stickers.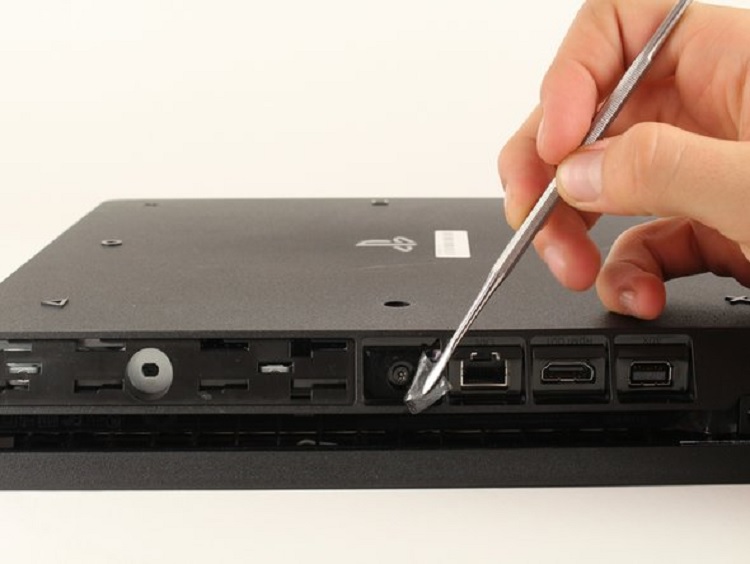 Remove the three screws that are circled in red. This will necessitate the use of a torx bit.

Remove the plastic cover.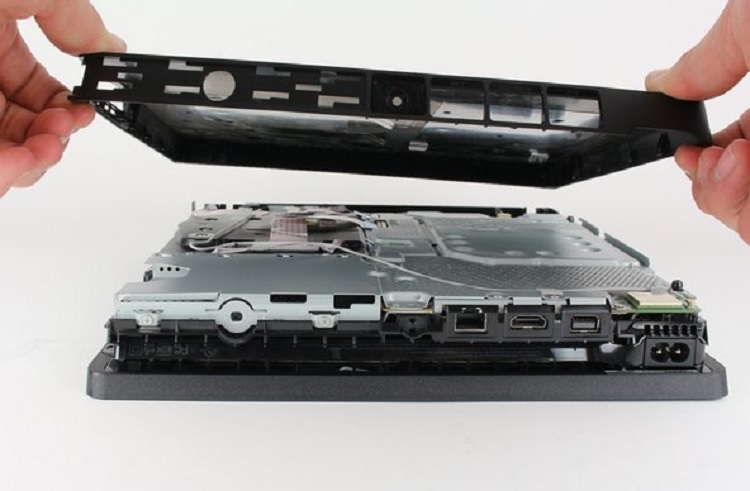 Remove the five screws holding the power supply in place.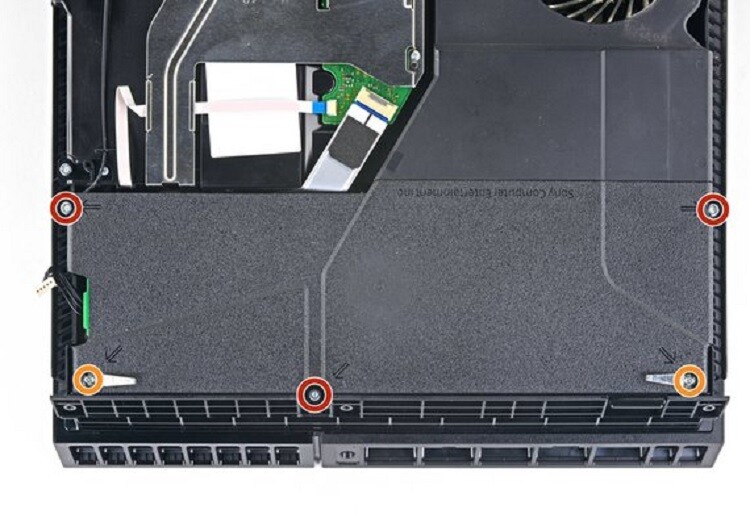 Make a note of the screws used in each stage. At the end of the disassembly, there will be a lot of loose screws, so be careful not to mix them together.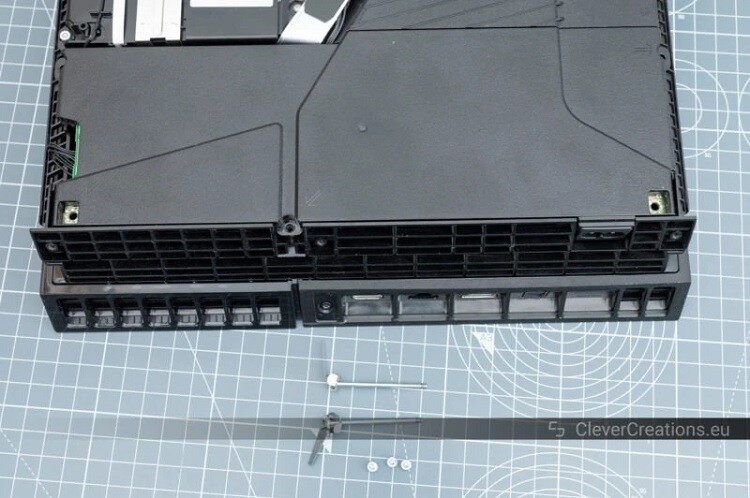 Remove the little cord that connects the power supply unit from the wall. Before removing the PSU, be sure this is disconnected.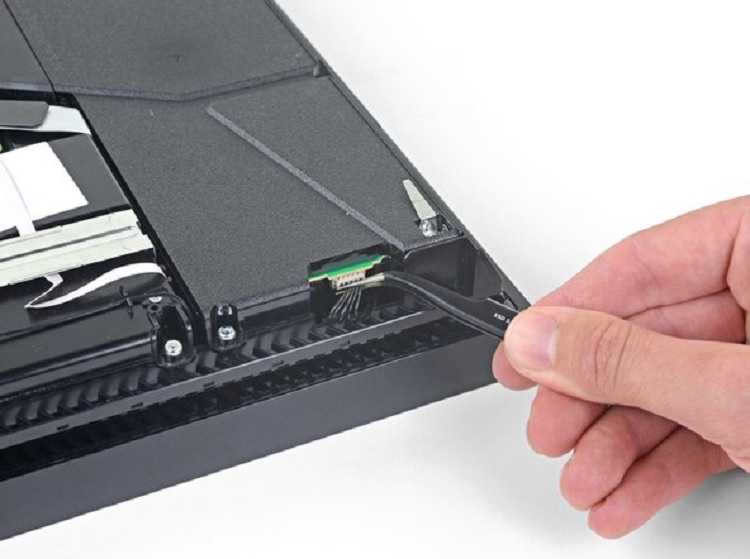 Remove the power supply. It is well kept in place, so this may require some force. Holding the PS4 backwards can also help.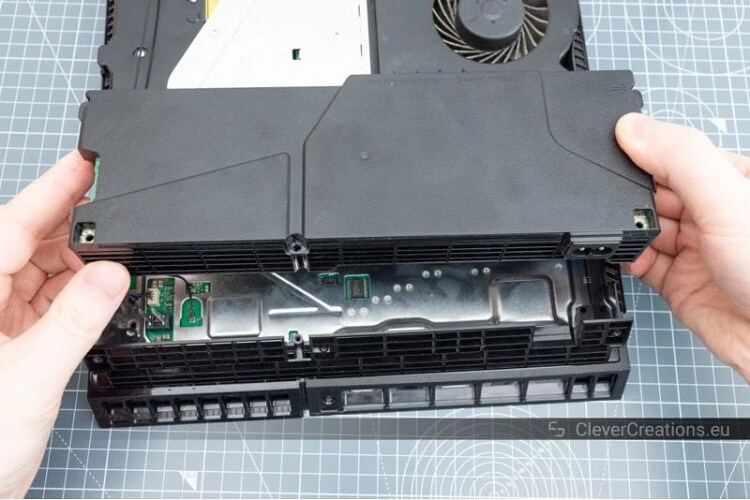 Unplug the circled cords now that you have access to them. These cables attach to the PS4 motherboard, which we'll take apart later.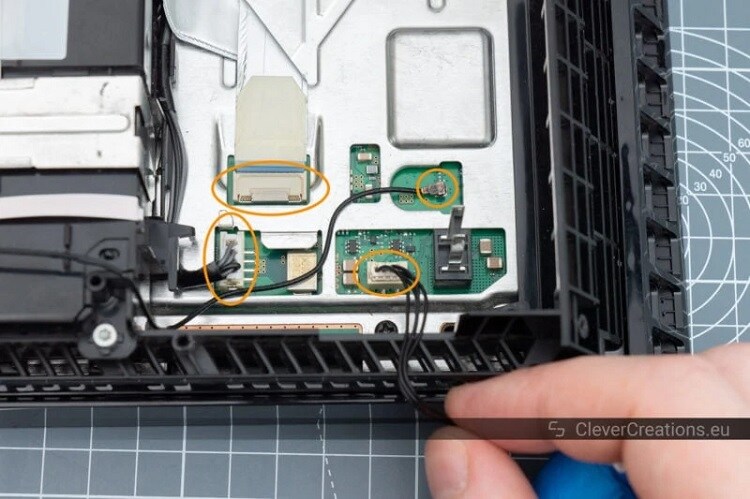 Unscrew the single black screw in the image that is circled.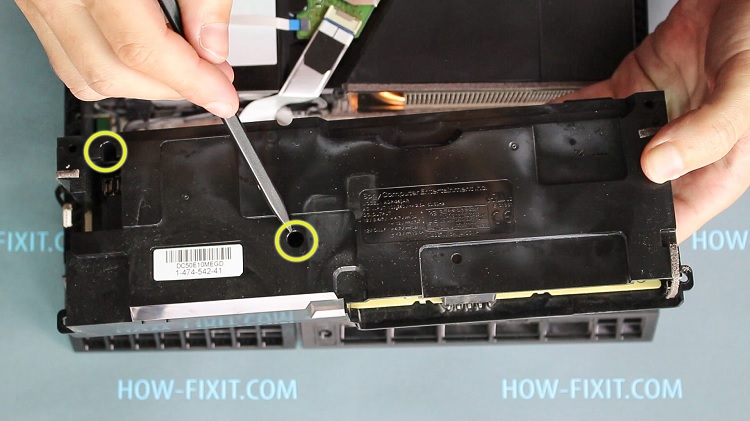 Continue by unscrewing the final screw on the PS4's back.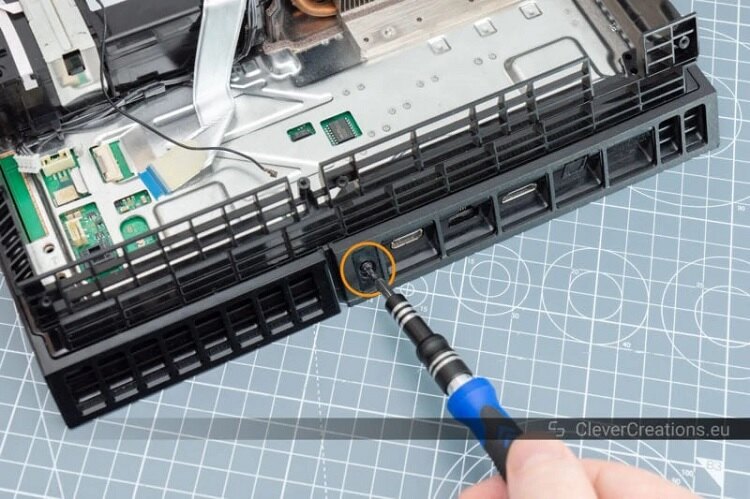 Remove the smallest of the two top-mounted plastic coverings.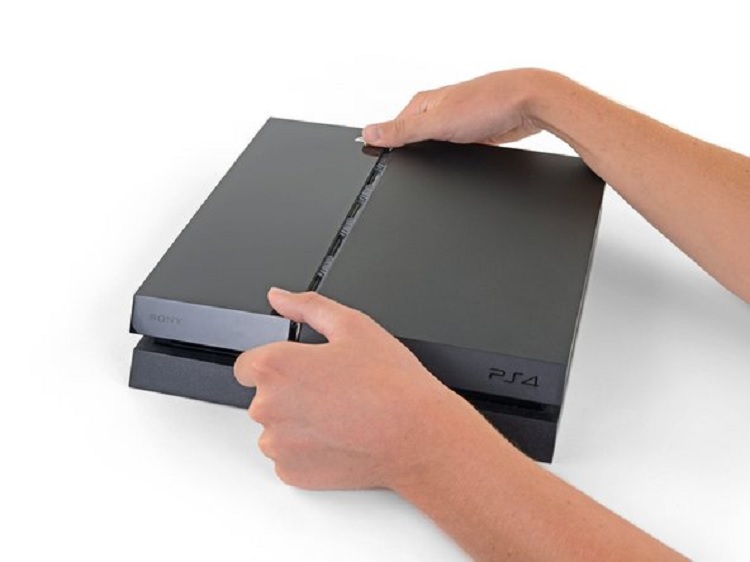 Remove the screw that secures the hard drive tray.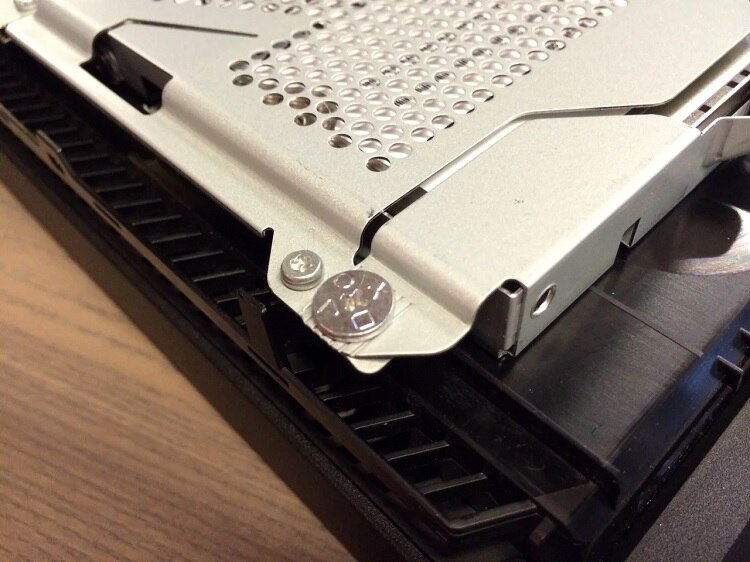 Remove and set aside the hard drive tray.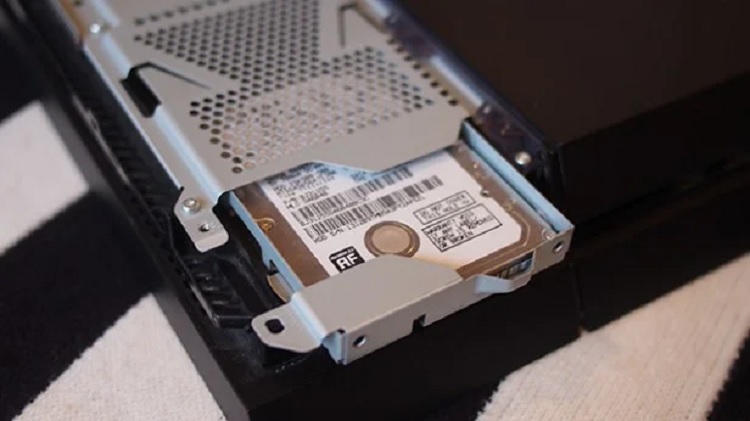 Remove the two screws that hold the last remaining plastic cover in place.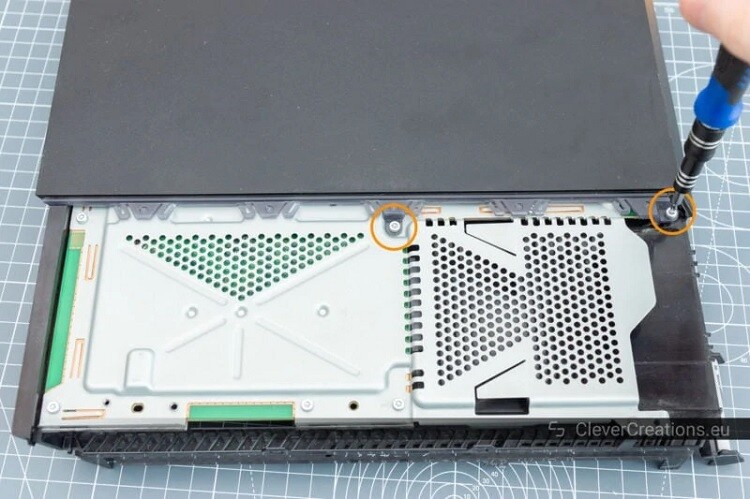 Remove the cover made of plastic. Make sure to start lifting from the correct side (when viewed like in the image).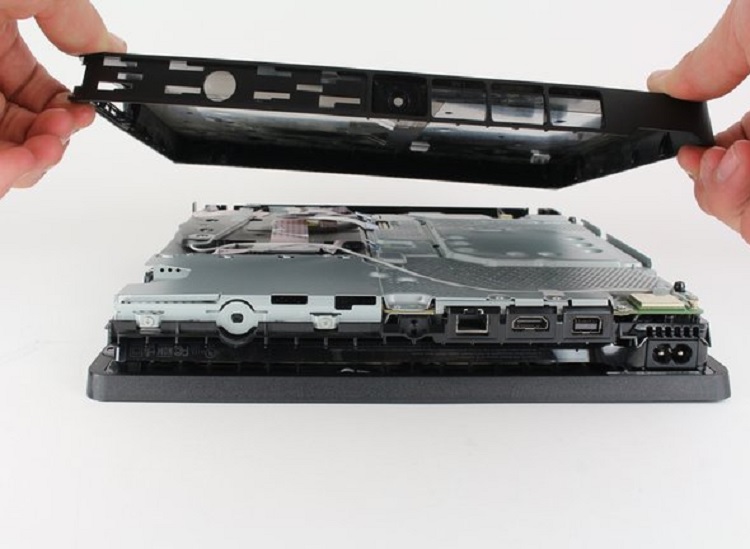 What causes the HDMI controller chip to break
Aside from the HDMI port, a faulty HDMI controller chip or its surrounding components might cause video difficulties on the Playstation 4. The broken components must be replaced if this is the case. This is a challenging task that should be left to a professional.
The Panasonic MN86471A HDMI controller chip is a delicate component that can fail for a variety of reasons:
1. (Un)plugging the HDMI cable while the PS4 is on
This is normally fine, but in some rare cases, it can destroy the HDMI chip. When the grounding between the PS4 and the TV is unbalanced, for example, this can be a problem.
2. Shorting out of the HDMI port pins
The controller chip can be damaged if the pins on the HDMI port short circuit, such as when one pin bends and meets another.
3. Static electricity
It's possible that static energy harmed the controller IC if you opened up the console to repair or clean it without taking necessary anti-static precautions.
Aside from that, it's possible that the HDMI coil filters have been broken or that the traces on the circuit board near the HDMI port have been destroyed. Overall, while the HDMI connector is frequently to blame, there is a slew of additional reasons for a Playstation 4's inability to display an image. As a result, this is a challenging fix.
Can You Fix PS4 HDMI Port Yourself
Replacing the HDMI port is difficult, but it is possible if you have the necessary tools and are confident in your soldering abilities. Fixing the HDMI controller chip, on the other hand, is a lot more difficult. I don't recommend attempting a DIY repair unless you are confident in your abilities or if you see this as a learning opportunity and are willing to risk further damage to the console.
It is possible to not only poorly fix the HDMI port or controller chip but also to cause even more damage to the console if you do not have the necessary skills or tools. For example, you are harming the printed circuit board's traces or pads. Damage to the PCB is difficult to fix and requires the services of a certified repair shop.
Is it worth fixing
Perhaps, but perhaps not. Attempting to repair the HDMI port yourself has the danger of causing more harm. There's also no certainty that the HDMI port is the only item that's broken, so even if you repair it properly, the Playstation 4 might not operate again.
Having a competent repair service is a good idea. Having someone else conduct the repair for you might be expensive, and many times the guarantee is just limited. As a result, there is no guarantee that the PS4 will continue to function for a long period.
Prevention Of PS4 HDMI Port From Breaking
Even though the Playstation 4's HDMI port is delicate, there are several things you can do to lessen the chances of it breaking.
Before plugging in or disconnecting the HDMI cable, be sure the console is turned off. The HDMI controller chip is less likely to be damaged as a result of this.
While the console is turned on and plugged in, do not move it. When you move the PS4 while it's connected in, the HDMI connector in the port moves about, potentially causing a short circuit.
While the cords are connected, do not wrap them around the console. This is useful if you need to transfer the Playstation 4 and its wires to a different location, but it puts a lot of strain on the HDMI port. Before wrapping the cords around the console, unplug them first.
If you need to plug and unplug the HDMI cable frequently, use a short HDMI extension cable or splitter. You can connect to it instead of the PS4 HDMI port and keep it attached all the time. This keeps the console's port from wearing out.
Conclusion
There are several reasons which can affect the performance of PS4 or sometimes damage them. The user has two options in case their PS4 is not working properly. Firstly, they can repair the PS4 HDMI port and replace it and try some better options with more features. That will make gaming more enjoyable.
I hope this article solved your query related to PS4 HDMI port repair.
FAQs
How much do I need to fix ps4?
Sony is said to charge $150 for HDMI port repairs on the PlayStation 4. If you go to a non-Sony repair shop, you will pay a fraction of that. It's probably in the neighborhood of $100.
Can a PS4 be repaired?
If you are able to isolate a problem with the PS4 hardware, you should contact PlayStation customer service or take your console to a Sony retail outlet, which may be able to perform on-site repairs or replacements. You'll probably have to ship your console to Sony if there isn't a retailer in your area.
Does Sony fix PS4 for free?
If the warranty stickers are broken, they will charge you for the repair. You can still send it in; but, it will not be repaired for free during the 12-month warranty period.