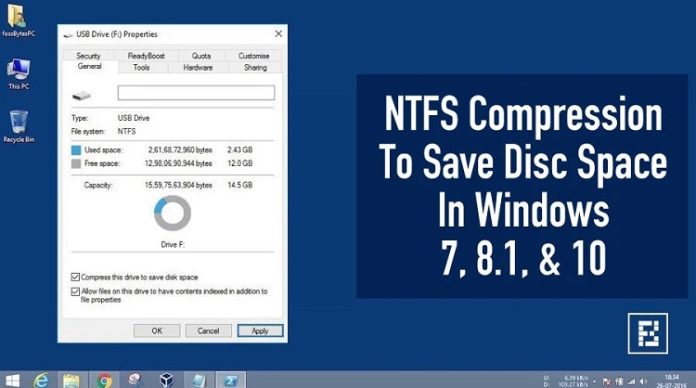 Sometimes when your disk space is full, you have no other option but to reduce the file size by zipping them. However, Windows has its own compressing software, NTFS, to compress files and folders, thus, creating more disk space.
This article will focus on how it works and if it's really useful or not. So let's dive right in.
What is NTFS Compression?
NTFS Compression is a built-in feature in Windows 10 which allows you to compress files and folders in the drive so that they take up less space. It's also better than zipping the files and then unzipping them, while using them because it becomes a tiresome task.
In addition, this feature doesn't require you to compress files manually. Once you apply it, it'll automatically start to compress files without any effort from your end. You can use this feature on one file, one or more folders, or an entire drive.
However, you can use this option only if you have the NTFS file system; otherwise, this feature won't be available to you. Here's how you can check which file system you have –
Right-click on any Windows File Explorer partition.
Click on Properties.
A pop up menu will appear, and in the General tab, you'll see the file system you use.
How to Compress Files to Save Space on Windows 10?
Now that we know what this feature is, it's essential to know how to enable it. So follow the steps mentioned below.
Double click on This PC, which will open the Windows File Explorer.
Right-click on your desired drive and click on Properties.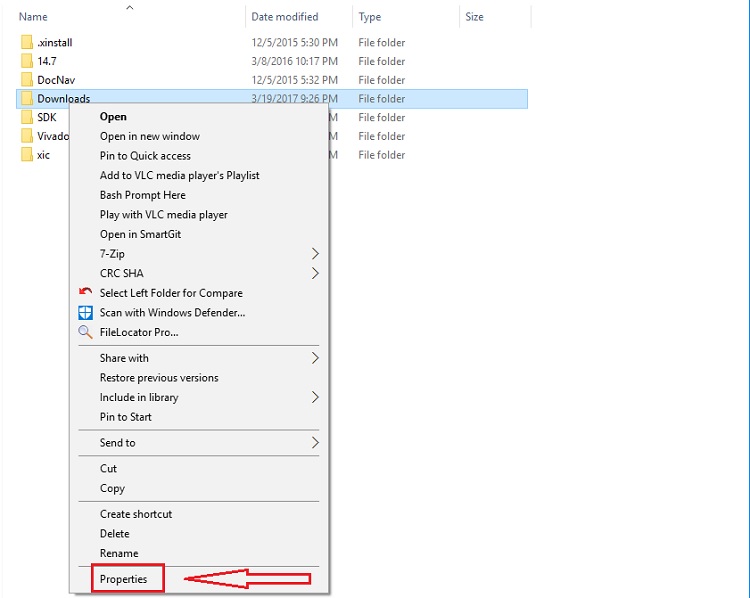 Select the option "compress this disk to save disk space" and click Apply.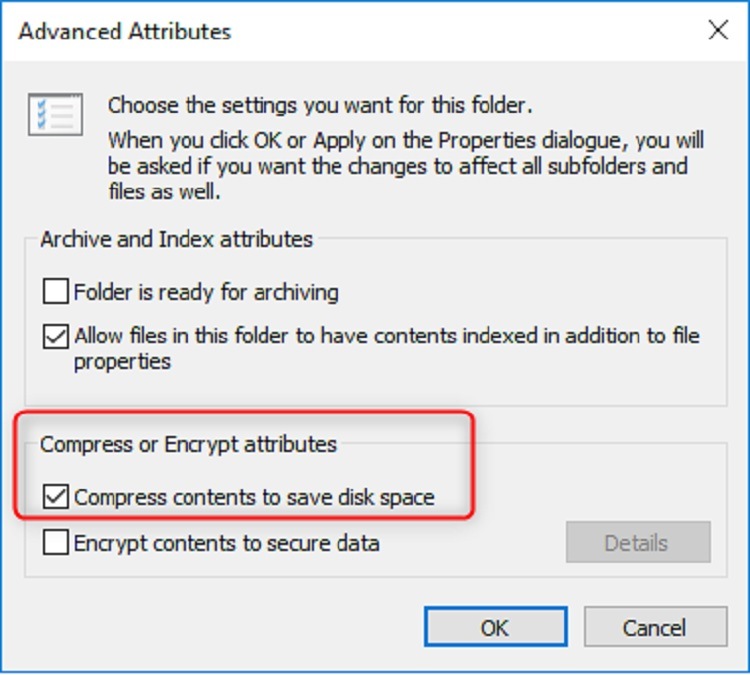 A pop up window would appear asking for your confirmation to change attributes. Click on the "Apply changes to drive, subfolders, and files" option and press OK.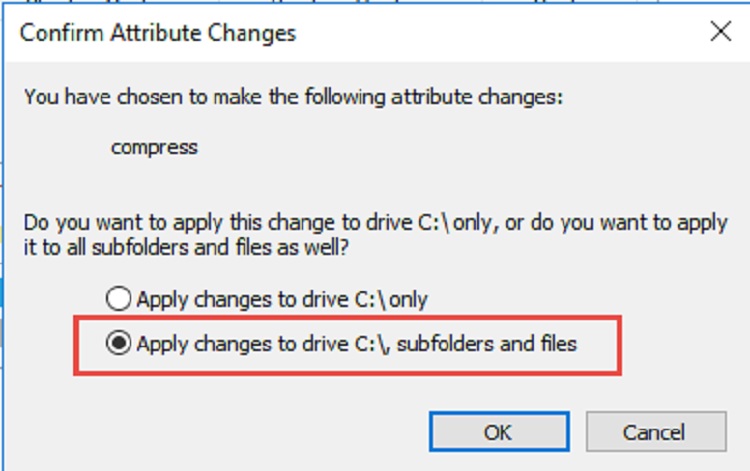 Click OK again.
Your NTFS compression is enabled.
When Should You Use NTFS?
NTFS is excellent at compressing drives and some particular file types better than others, and they are –
Documents produced by Microsoft Office.
Text files, for instance, log files, XML data, configuration files, etc.
Uncompressed images (like bitmap images).
Pros and Cons
This feature has both pros and cons when it comes to compressing files and folders, so let's look at both the perspectives.
As for the pros,
If your drive consists of a lot of .txt files, then using NTFS would help you in a major way by clearing a huge amount of space. As per research by Tom's Hardware, a drive's size can go down from 70.9 GB to 58.4 GB if you use this compressing feature. So a 17.6% free space is granted to you.
Those with a fast CPU wouldn't notice any changes in their computer's functioning in terms of slow speed or anything, even after the software's done compressing.
This process by Windows continues in the background, so it wouldn't interrupt any other work you do while your files are being compressed.
When you open a compressed file, it takes time for the CPU to decompress it, but if you use this feature, the CPU would load the file much more quickly.
NTFS compression's algorithm is optimized and is simple to use as compared to other websites.
Let's move on to the cons of this feature –
If you have a compressed or poorly compressed file already, then this feature won't do much and wouldn't make any difference in the disk space. For instance, compressing a file that has already been compressed into a .zip file won't create extra free space.
Using NTFS with a bad CPU would result in your computer slowing down because loading these files would take more effort for your slow processor. Since when you open a compressed file, Windows decompresses it, and when you close it, it compresses the file again, which takes up a lot of time.
In addition, if you compress these files, the SSD might generate more writes in the drive, which would affect the functioning of the drive.
In the case of write operation, the task would become more difficult altogether because the computer would download the compressed drive's files, decompress them, shift them to another folder, then compress it again, and finally write it to disk.
How to Compress Drives and Individual Items?
Here's how you can go about getting compressed drives or individual files and folders using the NTFS feature.
To compress an entire drive –
Click on Start and go to My Computer.
Right-click on the drive you wish to compress; for instance, compressing your c drive, and then click on Properties.
Go to the General tab and select "Compress Volume to save disk." Now, click OK.
Under the Confirm Attribute Changes, click on OK.
For individual files and folders –
Click Start and navigate to My Computer.
Double click on the NTFS Volume option, which consists of a folder or folders you wish to compress.
Right-click on your desired folder and select Properties.
Click Advanced under the General tab.
Now, click on the "compress content to save disk space" and select OK.
Click OK again in the Properties dialog box.
Click OK when it asks for confirmation regarding the attribute changes.
Alternative to NTFS
As we mentioned earlier, there are two sides to this feature, and it might not be the best option for everyone when it comes to clearing disk space. This feature does have certain drawbacks, such as it only works on specific file types, might slow down your computer, and so on.
So instead of using this feature, try getting a large drive, which would store more files and folders, or maybe another drive, which would work the same way.
Another option is AOMEI Partition Assistant Professional, which allows you to move several apps, such as Microsoft Office, games, OneDrive, etc., from one hard drive to another. So you no longer need to compress harddrive, because doing this would free up plenty of space. Also, none of your data would be lost during this shift.
You can also move Microsoft OS to SSD or HDD, clone a hard drive to another, and also get rid of large files to make space.
Here's how you can install this disk manager.
Install AOMEI Partition Assistant Professional. When you launch it, the main interface will showcase all partitions and disks.
Click on Tools from the right partition and then choose App Mover.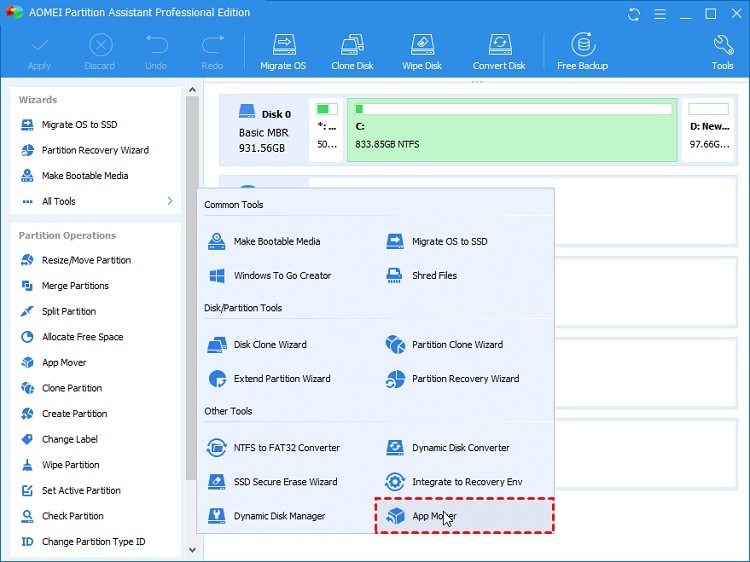 Choose the drive you wish to compress and click on Next.
Select the apps you wish to shift to another drive, preset their destination, and click on Move.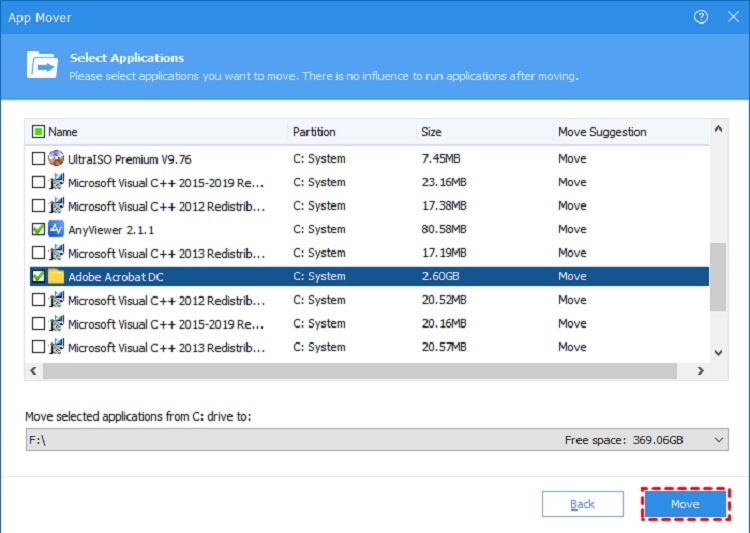 When asked for confirmation, click OK, and the transfer will begin.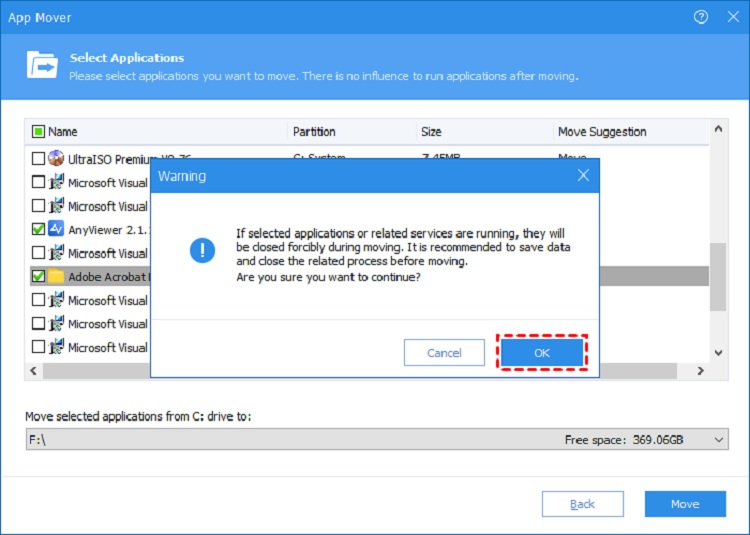 Select Finish once it's done.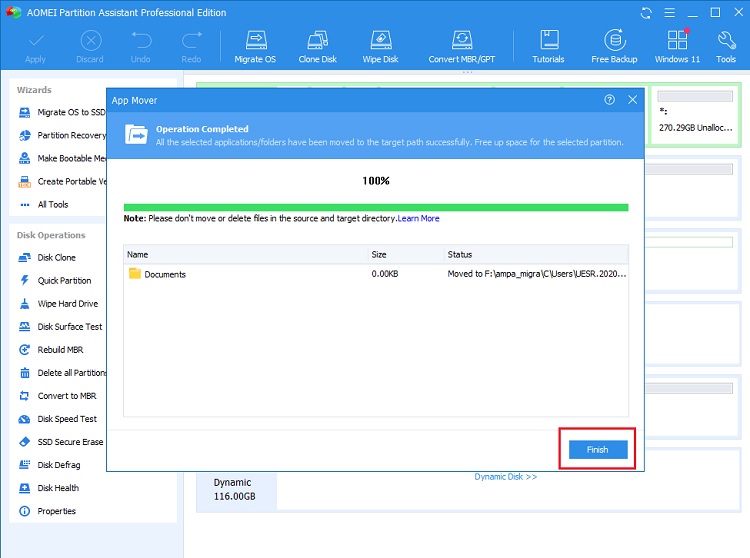 Faqs
Is it good to compress drive to save disk space?
If you wish to create free space in your drive, it's still not an ideal option to compress the drive. It's much better to try out other options first to create space and choose this option as a last resort.
What is compress contents to save disk space?
When your disk space is full, a Windows operating system, NTFS compression, helps you compress files and folders in the drive to create more space. By compressing these files, their size reduces, thus, generating more free space.
Conclusion
This is how you can compress this drive to save disk space and store more files and folders in the drive. This option is an excellent one because it guarantees results, unlike some other methods that may or may not work. Also, there are several benefits of the Windows in-built feature to compress files; otherwise, you can try the alternatives mentioned in the article.